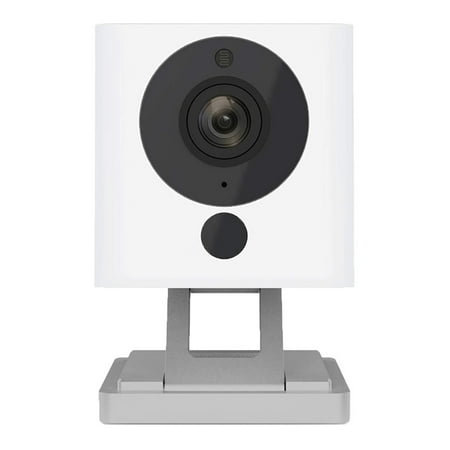 Wyze Cam v2 delivers fast, clear, live stream footage direct to your smartphone via the Wyze App (iOS and Android), day or night. You can receive an alert anytime your Wyze Cam v2 detects sound or motion and view up to 14 days of saved alert videos for free - no monthly fees or subscription required. Use the Wyze Cam v2's new Motion Tagging feature to easily identify motion in both live stream and playback video modes. Plus, you can add an 8GB, 16GB or 32GB microSD card (sold separately) to enable continuous recording, schedule custom time lapse videos, use 2-way audio to talk, and listen through your Wyze Cam v2. Use the Wyze App to manage and view multiple cameras, share your cameras with other users, view alert videos, and record and share photos and videos directly from the app. With its small size, magnetic base, and flexible 3-axis design, the Wyze Cam v2 can go anywhere you need it. The Wyze Cam v2 must be powered to use (it does not have a battery) and is designed for indoor use (it is not weatherproof). Power Adapter Input: 110-240V (AC/DC).
ADVANCED: Continuous footage recording and two-way audio / JX-F23 CMOS sensor provides clear images for day and night / Matte finish replaces glossy finish of original to reduce reflection
SMART: Motion Tagging detects and outlines motion in live or replay / Recognizes sounds of smoke alarms and CO monitors
TECHNOLOGY: Class-K audio power amplifier / New audio chip significantly reduces TDD interference and EMIUSB Port: The USB port supports daisy chaining up to 3 Wyze Cam(s) to share a single instance of the provided power adapter
Specifications: Power Cable Length: 6 feet (1.8m)Mounting Method: Magnetic
Ports: 1 Type-A USB, 1 micro USB
Power Adapter Input: 110-240V (AC/DC)Power Adapter Output: 5V/1000m
ACPU: 1.0G
HzMemory: 128MB
Resolution: 1920 X 1080 (1080p)Camera - Lens:  F2.0 aperture, 2.8mm focal length; Image sensor: 1/2.9" CMOS; Digital zoom: 8x
Field of View: 110° lens
Night Vision: 4 IR LE
Ds (850nm); Illuminates up to 29.6 feet (9m)Video: H.264 encoding; Day time video: 15 FPS; Night vision: 10 FPS
Audio: Built-in speaker and microphone; Class-K power amplifier
Alerts: Push notifications
Cloud Storage: Free rolling 14 days of Event Videos stored in the AWS Cloud
Local Storage: Supports 8GB, 16GB and 32GB micro
SD cards in FAT32 format
Data Security: End-to-end encryption; HTTPS secure transfer protocol; AES 128-bit encryption
Data Usage: 1-2MB per minute in SD, or 4-7MB per minute in HD
WiFi: 802.11 b/g/n 2.4G
Hz (Does not support 5G
Hz network) Supports WPA and WPA2 protocols
Connectivity Requirements: Upload speed 1.0 Mbps for SD and 1.5 Mbps for HD
Integrations: Alexa, Google Assistant, IFTTT
Operating Systems: Supports i
OS 9.0 and Android 5
Customer Reviews
Great Camera at an Insanely Low Price
The Wyze Cam V2 is a marvel of technology. Clean HD video, WiFi, bi-drectional audio, included power supply and cable, elegant and simple setup I have been using Wyze Cams for over 2 years and have 10 at home and 4 at the office. The oldest one - and remember these are "indoor" cameras, has been mounted outside pointed at my front yard for over 2 years. The sun hits it directly every day and its the image has held up with manageable degradation.

I replaced it today with a new Wyze Cam and at the price of the device It's a bargain even replacing it every two years. Cameras mounted indoors and those outdoors with an overhang and not in direct sunlight have performed flawlessly.

I highly recommend this product.
Perhaps the best priced quality cam on the market!
Man I love these cams. The price was great, and the quality is unexpectedly good. No real hiccups so far. Very sharp and vivid. And mobile functionality is simply amazing... The app design as well as cams are very modern and easy to use. I'll be ordering some more. Thanks for making them!
Awesome Little Camera
This awesome little camera is compact, clear, and a ridiculously good value. The magnetic swivel base is ingenious, offering a ton of mounting and aiming flexibility that you don't get elsewhere.
The speaker for two-way audio is louder than any other budget camera I've tried. I can't wait for a doorbell unit to be released!
You may also be interested in