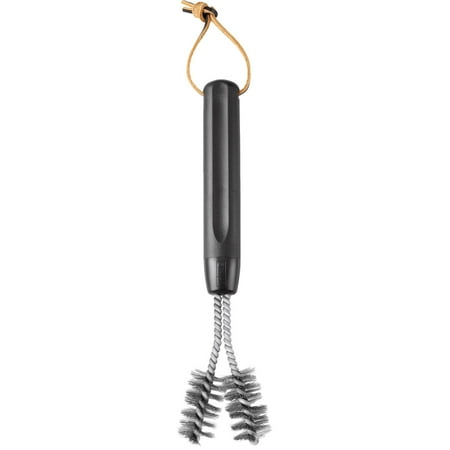 This Weber specialty brush features angled bristles to fit in between your grill's cast iron grates for a deeper scrub. Its size also makes it ideal for smaller grills. It has a modified texture for a better feel.
Ergonomic handle for a secure grip
Hanging strap for added convenience10.5 in. long handle for extended reach
Customer Reviews
Great for deep cleaning.
I typically use the wider flat brush from Weber to clean the top of the grates and then use this skinnier V-shaped brush to get between the grates when needed. It's comfortable to hold and it doesn't lose bristles like the cheap knockoffs. Consider it a necessity in your grilling toolbox if you are serious about keeping up on your maintenance.David
Works like a charm.
I usually don't buy add-ons and extras because they can be overpriced and no very good (except as profit for the seller). But this little brush is the perfect fit for the job. The wye shape works extremely well to clean the grill. I am happy to use it each time.
Excellent Specialty Brush!
I love this brush. This is my second one. The first one lasted a very long time. It cleans grilling "debris" that is hanging from the sides and bottom of the grates.LASB
You may also be interested in