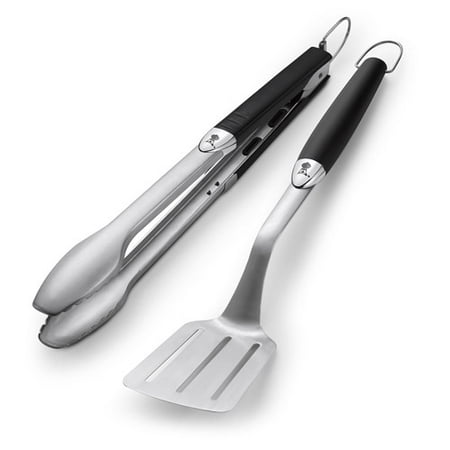 The 2-Piece Weber Original Stainless Steel Tool Set is an ideal addition to your grill. It features the most-used barbecue items in one set. The stainless steel grill tool set includes tongs and a spatula. They make it easy to put food on the grill, turn it when needed and remove it. Both have long handles to keep hands and forearms clear of the heat. The soft-touch handles also provide a safe and secure grip. The spatula has a wide front edge to provide optimal support for turning food. The tongs lock together for easy storage and both pieces include hooks for hanging. This 2-piece Weber original tool set helps you handle meat with ease and care to preserve juices and ensure it's cooked to your liking.
Soft-touch handles offer comfortable non-slip grip
Tong handle lock for compact storage
Spatula's angled shank reaches over edge of grill, keeping arms and hands away from heat
Made of stainless steel
Weber model number:  6625
Customer Reviews
Quality product!!!
I ordered this when we bought our new grill.This tool set is very well made and takes our grilling up a level! They are a joy to use and an ease to clean!!Miss Kat
The perfect tools
Had old Weber tools I loved. Did not think it was possible to improve them. These are even better.... easy to use, cleanly turns items on the grill, easy to clean. 5 stars!
Quality, design and functionality.
Sturdy, well designed tool set which provides everything needed to handle everything from hot dogs to beef tenderloin!RDoty
You may also be interested in