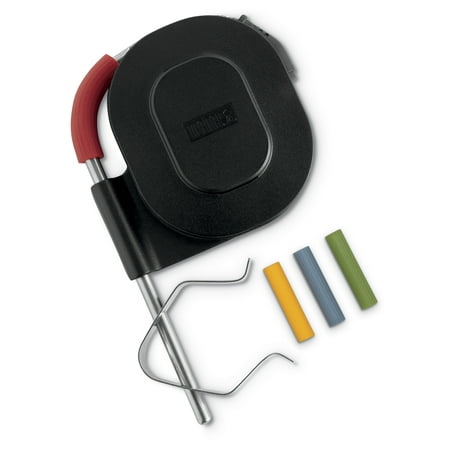 This Pro Ambient Probe is specifically designed for precision temperature tracking with the iGrill Mini, iGrill 2, and iGrill 3. This heavy-duty meat probe measures between -58°F and 716°F with a length of 48 in. and is designed for extreme grilling and smoking. Comes with a cord wrap that mounts perfectly on the back of your unit and snaps together with your additional probes.
GRILL COMPATIBLE - Monitors the internal, ambient grill temperature, whenconnected to an i
Grill app-connected thermometer.HEAT RESISTANT - Probe can withstand the intense heat of searing and all daygrilling.FOUR COLOR-CODED SLEEVES - Color code your probes to easily identify thecorresponding temperature.PROBE WRAP - For easy storage and organization of probes.PROBE GRATE CLIP-  Clip your ambient probe to the grill grate for the mostaccurate, grate level, temperature readings.
Customer Reviews
Love It
What can I say. My kettle is now a smoker. It's awesome. I use this with the igrill 2, which is a quality product.
I have seen some complaints that the metal clip that holds the probe to the grates don't match the grates on the grill. That was true for me, and to those complaining I say "lighten up, Francis!" Different grills have different grates. Get some pliers and sort it out. Took me all of 5 minutes.Joe P. Baltimore, MD
Gives you control of the smoker
I use the ambient temperature probe in conjunction with a temperature controller for my smoker that does not display exact temperature. It makes it possible to hit and hold precise temperature and notifies you when the smoker needs attention. Great product!Ram L
Great function, easy use,
I initialing used this for outdoor grilling, the remote app on iPhone is great for keeping track of temp. The best news is I have found it to be very useful as a remote sensor to track the temp in our outdoor sauna. Just start the wood fire and do as you wish until the temp reaches target. No more continually checking if the sauna is ready, very handy.Sauna man
You may also be interested in