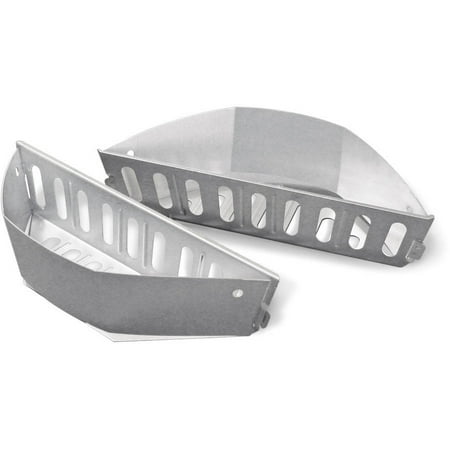 Uniformly stack briquettes for direct or indirect grilling with these charcoal fuel holders from Weber. Place them back-to-back in the center of the grill to form a direct heat source or position them to the sides of the kettle for indirect cooking. Each charcoal holder is forged with aluminized steel and outfitted with side and bottom vents to facilitate ample airflow.
Use with Weber 18 in.(and larger) charcoal Master-Touch, One-Touch and Bar-B-Kettle grills
Fit up to 10 regular-sized briquettes in each holder
Genuine Weber accessories are constructed with aluminized steel for durability and longevity
Surfaces wipe clean easily, resist corrosion
Charcoal remnants, once cooled, are easily saved for use on next grilling occasion
Customer Reviews
Weber kettle grill fan
Very happy with this product. They let me keep the heat I'm looking for. Low and slow, hot and fast and In between.Back yard kitchen.
Cooking control.
They give more control over the heat source for outside grilling/smoking.Pit Man
Baskets for chalcoal
Good itemq and works great. I like it Distribute heat well and make cooking easier
You may also be interested in