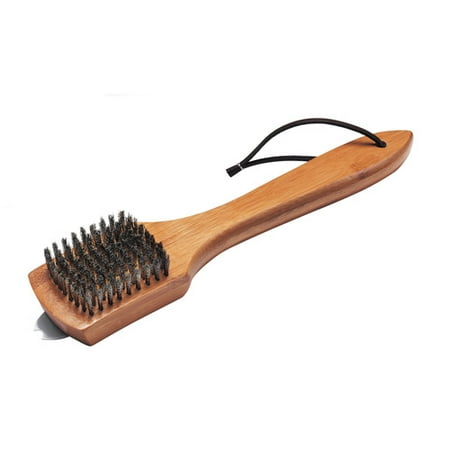 The Weber 12-inch Grill Brush does a neat job cleaning your cooking grates. It features long-wearing bristles and a notched scraper set in an ergonomically designed durable bamboo handle. The long-bristle grill brush makes light work of cleaning the grills and makes you look good doing it. Also, the notched scraper removes even tough stains and grime with ease. A useful string at the end of the brush helps you store and retrieve the Weber cleaning brush with ease. Overall, the grill cleaning brush combines the functionalities of a brush and a scraper in a thoroughly useful, durable product.
Long-wearing bristles
Notched scraper
Bamboo handle
Customer Reviews
Easy to Hold
I like this brush so much that I bought a second one when, after many years, the first one needed to be replace. It really cleans the grill with very little effort. I chose a short handle brush and that makes is easy to bear down some weight to clean the stubborn spots. We live in Florida so my Weber grill is used practically every day.Riki
Just what is needed at the grill. Perfect accessor
Great Brush and really easy to use. Long lasting and perfect for its intended use. The leather strap is a convenient way to hang right on the side of the grill for easy access.
JUST THE GREATEST GRILL BRUSH
This my 3rd grill brush in the last 25 years. This brush looks to be of the quality as the other 2 brushes.Gogi
You may also be interested in