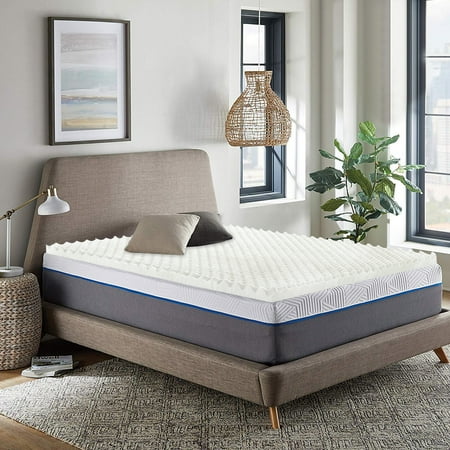 The Mayton mattress toppers have been effective in enhancing the comfort level of new and old mattresses alike, providing a better sleep experience for most people.This foam mattress topper is made from good foam that gently cradles you in the individualized comfort and support. Mattress toper is to be used on top of your mattress for additional comfort and thereby extending the life expectancy of the mattress.Convoluted design is made to reduce stress on common pressure points. Add a layer of comfort and support to your existing mattress with the Mayton Convoluted Foam Topper.
Breathable Foam: 1-inch breathable foam contours to your body to relieve pressure points while you sleep
Extends Mattress Life Span: Using Mayton mattress topper from the start is one of the best and simplest ways to protect your bed's longevity.Orthopedic Type: prevents your body from sinking and curling when you are sleeping, and promotes a better posture which reduce stress and strain on your spine, and increases energy levels during the day.
Customer Reviews
Soft and cozy
Soon as I pulled it out the box it was just what I wanted and fits my king size mattress perfect. Very nice and soft.QueenofHearts
Worth it
I've had this type before and it's comfortable and worth the money to get it fits my bed perfectly thanks WalmartKimmiebo
Love it!!
I am a larger person and originally got a 4in gel memory foam that did not work well with my size. This works much better and I do not sink down into the bed. Sleeping much better!!!Oceanfire
You may also be interested in