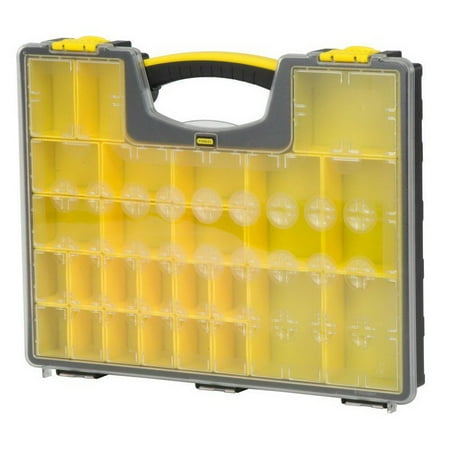 Is your tool shed a mess? Are you in need of a handy storage solution? Look no further than the sturdy Stanley 25 Compartment Organizer. This high-quality product can be conveniently attached to other products from the Stanley range with their unique interlocking design. This durable organizer is water resistant and sure to keep your items in pristine condition. It is great for storing screws, nails, electronics and fuses.
Unique lid design keeps storage cups locked in place
Removable cup compartments in 3 different sizes
Extra wide handle designed for gloved hands
Features 25 compartments
Yellow & black2-1/8" X 16-1/4" X 13-1/2"Keep small items and accessories neatly sorted with this STANLEY Professional Organizer. Equipped with individual compartments in 3 different sizes, it offers ample space to keep all items divided. It also features a high-impact; break-resistant crystal clear lid that allows you to easily view contents inside and includes an extra-wide handle that is designed for gloved hands.
Customer Reviews
SO USEFUL
I work as a professional handyman for designers and contractors so I need a wide variety of fasteners and hardware. the problem is that I need lots of small containers for just a small amounts of all kind of those. This shallow storage container has lots more removable compartments than the full size deep storage container AND two of these fit in the same space as one of the deep storage container. I have a whole side of my work van with tow vertical stacks of both types and it's like having a hardware store with me.
I can take the whole case in with me OR just a single inside compartment. [This review was collected as part of a promotion.]richmb1138
Great organizer
More organizers should be made like this. My favorite feature is the ability to remove the individual containers you are working with. I've always personally disliked the organizers you can adjust the dividers. Small pieces always slip under the dividers and it's frustrating to remove items. That is no longer an issue with this organizer. If you own multiple you can mix and match the yellow containers to better organize. I personally use these organizers for my Lego spare parts.Anonymous

GREAT QUALITY FOR A LOW PRICE. SHIPPED A FEW DAYS BEFORE THEY SAID IT WOULD. I AM COMPLETELY SATISFIED.James
You may also be interested in