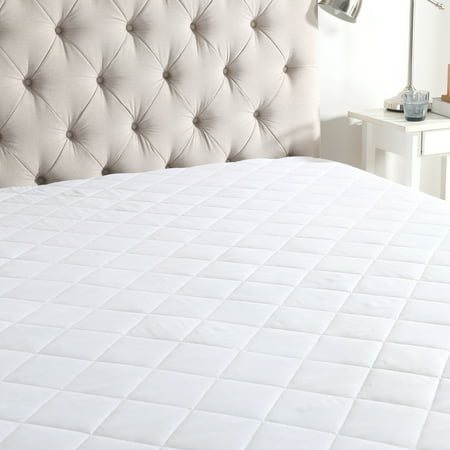 Whether you're looking to give your existing mattress a padded refresher or keep a new one feeling fresh, a mattress pad like this is a handy touch for helping you doze off in comfort. Crafted from polyester, this piece features a pillow top quilted design for a classic look and padded feeling, while gel-coated microfiber filling helps soften your mattress. Hypoallergenic and breathable, this piece is designed to attach to your bed with a stretchable skirt. And since it's machine washable, giving it a pick-me-up is as easy as a quick cycle. Size Chart: Twin: 39"x75" Full: 54"x75" Queen: 60"x80" King: 78"x80"
Queen size 60" X 80"Classic diamond quilted pattern
Lightweight quilted mattress pad with hypoallergenic fill
Create a more comfortable sleep by filling the soft & breathable fabric
High quality knitted fabric fits mattresses up to 16" deep
Machine wash and dry,keep your mattress looking fresh and clean all the time.
Customer Reviews
Great Mattress Pad
The is made of quality material. Is is easy to put on. I sleep really good on the bed with it. It washes and dryes very well. I have enjoyed it very muchCatherine
Nice Quality!
Perfect! Material, size, quality everything is as I have expected. It fits perfectly fine on top of my mattress and it feels great! very comforting I must say. I highly recommend this mattress pad cover..Mamta
Super comfortable
This mattress pad cover is so far one of the best I have used. The price is super reasonable as well. I have been using it for the past few days and so far I am loving it. Great product.ParryB
You may also be interested in