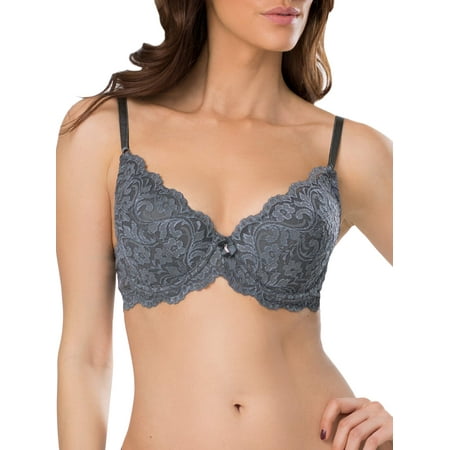 Our Signature Lace Push-Up Bra is your most loved lift with over 5 million sold! Flaunting our floral, signature lace, this push-up has just the right about of padding to achieve the cleavage you love. So Iace-up, we believe you just found your new favorite bra. As a Women Owned company, making you feel confident every day is our first priority. You deserve lingerie that is both comfortable and exciting. With the perfect style and fit, we make it easy for you to look and feel sexy at incredibly smart prices. We believe you are powerful, you are Smart&Sexy. That's not all, we also support women in more ways than one. For every Smart&Sexy garment sold, we make a donation to organizations that empower and support women.
Underwire
All over Signature Lace
Center bow & jewel Cage back
Back hook and eye closure Adjustable back hook and eye closure.Fit tested, true to size.
Customer Reviews
Great fitting, sexy and very comfy.
I have bought all kinds of bras even been fitted for special order bras and paid highly for some. When I go bra shopping I try one after another and usually leave out of frustration. Never have I put one on for the first time and it fit and felt good until I got this one omgoodness I LOVE THIS BRA!!! I will say it runs a little bigger then others and after wearing for awhile the straps don't hold real good but it's still the best I've ever put on. I love bras with lace they make me feel sexy and at 60 it takes a lot to do that, this one totally does. Thanks for making such a cute great fitting bra I'm on line buying more now HIGHLY RECOMMEND!!!!Pj
No Sags No Bulges
I NEVER order under garments from Walmart because its always a hit or a miss, but this bra is so comfortable the liftLa
Wonderful
Super cute and surprisingly comfortable. Full coverage which I didn't realize. Super soft though.Torrie
You may also be interested in