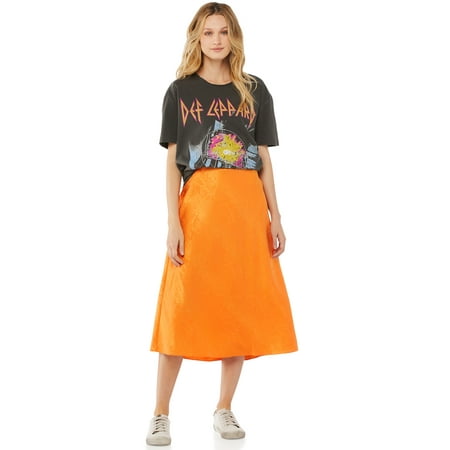 With a retro-inspired Def Leppard graphic print, this Scoop T-shirt boasts a rock 'n' roll '80s vibe and we're totally tuned in. Exclusively at Walmart.
Relaxed fit
Crewneck; pullover style
Short sleeves
Graphic print; pigment wash for a more vintage look
Split seam at hem and neckband with grinding details at sleeves© Bludgeon Riffola Limited, Under License to Epic Rights 100% Cotton
Machine washable
Imported
Women's Def Leppard Graphic T-Shirt from Scoop Scoop. Meet your must-haves. Get inspired with fun, flirty pieces, the latest trends and some unexpected finds. Here now—your go-to looks for all you do.
Customer Reviews
Ripped seam!
I like to wash my T-shirts in a delicate cycle before I wear them and when it came out of the wash the seam under the arm was already torn! I didn't even get to wear it ! So disappointed because I love everything Scoop puts out because of their quality...Ines54
This tshirt rocks!
This is a vintage style tshirt even thought the photo doesn't pick that up. Same shirt thats being sold for $100 but way better price point. Super soft and wont shrink. Stylish and on trend. True to size. Love this!Booties
Love it!
Super cute and stylish. Fits great!Jenna
You may also be interested in