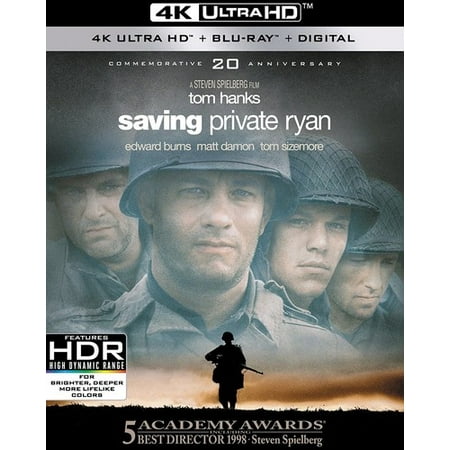 Steven Spielbergs WWII epic has been hailed as a senses-shattering, realistic depiction of war, telling the emotional story of a no-nonsense U.S. Army captain (Tom Hanks), who, after facing the horrors of Omaha Beach on D-Day, receives orders to lead his troops on a search somewhere in Normandy for Private James Ryan, a lost paratrooper whose three brothers had been killed in combat. Also stars Edward Burns, Tom Sizemore, Barry Pepper, Vin Diesel, and Matt Damon as Ryan. 169 min. Widescreen; Soundtrack: English.
Customer Reviews

An excellent war movie of an American unit sent to find the 4th brother in a family before he gets killed, like his other brothers.philip

One of the best war films of all time, if there ever is a good way to describe the horrors of war.
The first 15 minutes captures the ultimate sacrifices made to bring peace and freedom to millions.98109
Saving Privat Ryan
I have not seen this movie from the 4K I bought, but I have seen the movie before a few times. It is a really, great movie and I wanted it on 4K. I do write getting products from Walmart by FedEx has been a day faster than mention upon order.
You may also be interested in