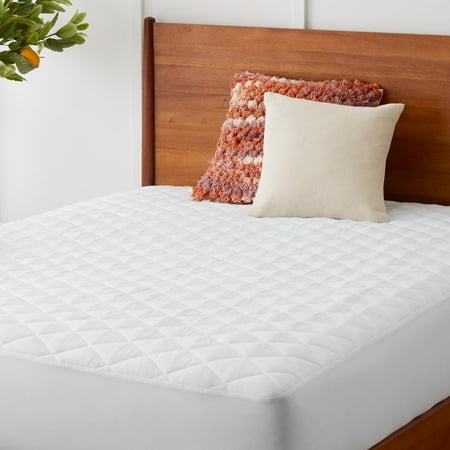 The Rest Haven Down Alternative Waterproof Mattress Pad combines a plush mattress upgrade with peace of mind. The cozy down alternative fill is hypoallergenic and kept in place by a quilted design to prevent shifting throughout the night. A 100 percent liquid-proof membrane protects your mattress from spills, accidents, and stains while allowing for breathable comfort. Featuring deep pockets and an elasticized skirt, this mattress pad is compatible with most modern mattresses.
The quiet waterproof membrane protects your mattress from spills and accidents
The soft microfiber cover creates a breathable air layer between you and your mattress
Enjoy an even and consistent plush feel thanks to the diamond-quilted pockets that hold the down alternative fill in place
This mattress pad is compatible with most mattresses thanks to the elastic skit that provides a tight and wrinkle-free fit
Don't sweat the small spills and accidents, keeping your cover clean is easy thanks to the machine washable design
Customer Reviews
Good product
Really like this waterproof matress pad. Although it isn't really much padding you can tell the difference when it is on our bed. It is put together very well without any exposed strings on the seams. Would recommend to anyone looking for a matress topperChad
Rest Haven Down waterproof pad -for a twin
Trying it on my twin bed I can say this definitely deserved all the 5 stars and it fit on my bed like a glove. this is easy to put on since it fits a deep mattress ,very cost effective for walmart as usual, this is smooth & comfortable. fit is thin & waterproof it also protects against insects,
i had to wash it for wrinkles and it washed fine, it smelled like my softener and did what it was intended, i would recommend and buy another no problem! very pleased thank you walmart!
i did receive this product as a review which did not change my opinionTJ
Keeps you cool all night- great quality!
My son has sensory issues, so he has to be tucked in (with cover under mattress) and a weighted blanket over that. As a result, he also gets very hot at night, so he struggles falling asleep in a comfortable temperature. This mattress pad kept him cool all night. He didn't wake up at all during the night. And he said that he loved it and asked why we had not bought it sooner! So I give it the highest ratings!
You may also be interested in