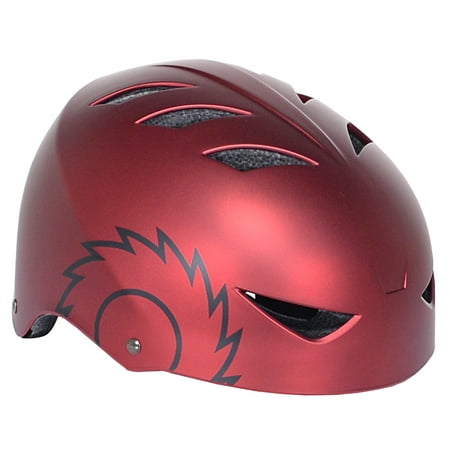 Whether your rad little kiddo tears it up on their bike, shreds on their skateboard, or scoots via their scooter, they need to keep their noggin protected. Keep your kids safe with the Razor Multi-Sport Helmet! This helmet incorporates things the things a parent wants, with the things a kid desires. The interior of the helmet features supportive padding this both comfortable and secure. It also complies with CPSC standards, so you can trust this is a safe option. For the helmet-wearers, this helmet has top and side vents, which are sure to keep the dome nice and cool. This helmet fits youth ages 8-14 and head sizes 22 to 23.5, so this helmet can grow with your child. Keep safety a priority with the help of this helmet from Razor.
Customer Reviews

This metal red is stylish and so cool!Adi
Looks and Fit Great
Got this for my son. My wife has been insisting that he and I start wearing helmets during our bike rides. I wanted something that functioned, but that he though would look cool. I was worried about the fit when I saw the recommended ages, but it fit my kid great
WE love it!
I found this in the store and my son loved it! It's fits him so well, we just turned the knob in the back until it felt right to him. I love the color, metallic red, it has a nice sheen to it. He wears it all the time when he is out riding his skateboard.
You may also be interested in