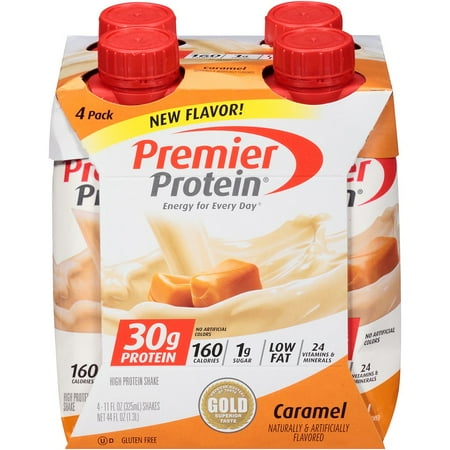 Premier Protein provides delicious protein products to give you the energy you need every day â without the extra calories, sugar and fat.
Premier Protein Shake Caramel - 4 PK.
Premier Protein® Shake Caramel.
Energy for every day®.
30g Protein.
160 Calories.
1g Sugar.
Low fat.
24 Vitamins & minerals.
No artificial colors.
High protein shake.
American masters of taste - Gold superior taste.
Naturally & artificially flavored.
Gluten free.
4 - 11 fl oz (325 ml) Shakes.
Net 44 fl oz (1.3 L).
Life requires protein, but we know it's hard to get lean protein.
That's why we make delicious protein products without all the sugar, fat and calories* to give you the energy you need every day.
So whether you missed breakfast, have the 3 o'clock hunger pang or need to refuel after a workout, we give you the protein you need, when you need it.
Enjoy a Shake: As a delicious meal replacement.
For a satisfying snack.
As a base in smoothies.
In hot or cold cereal.
*More calories from protein than from sugar.
Made from domestic and imported ingredients.
Premier Protein and Energy for Every Day are registered trademarks of Premier Nutrition Corporation.
All rights reserved.
Customer Service: (888) 836-8977.
For more information on Premier Protein® products and recipes, Visit us at: www.premierprotein.com.
Copyright 2016 Premier Nutrition Corporation.
Customer Reviews
Premier protein shakes
I have been using Premier protein shakes now for two months since that time I have found every flavor that they offer to be amazing but my favorite is the caramel it tastes like a cappuccino to me. The product has 30 g of protein and I believe only 7 g of sugar which is pretty awesome. I would definitely recommend this product to anybody who is wanting to lose weight within this time I have actually lost 53. If you're considering purchasing a protein shake I would suggest you try Premier.Mary
Full of flavor
Finally, a shake that can replace a meal that is full of flavor! I have been searching for a grab and go shake that I can use as a meal replacement. The caramel shake not only tastes delicious, it actually fills me up and keeps me full for an extended time. I am always on the go - so these are easy for me. [This review was collected as part of a promotion.]Littlmiss83
This stuff is delicious
I received this as a sample through power reviews and It couldn't have come at a better time. I'm currently on a diet trying to lose 25 pounds and this is the best as a meal replacement esp when you have a sweet tooth and it's an easy on the go fix. I used this as my breakfast replacement and It even filled me up. The caramel is super good like eating a good snack. I will definitely be purchasing this and trying other flavors. [This review was collected as part of a promotion.]Cbreaux88
One of my favorite protein drinks
This caramel protein drink really exceeded my expectations. It has a great flavor (even if if is a little too sweet in sips). It keeps you full for several hours (mine was almost all day!). I will definitely be buying more of these protein shakes and I think I am going to check out the other flavors as well. [This review was collected as part of a promotion.]Jessicamckee1
Awesome Taste
The moment I tasted this product I was in shock with how good it was. Most protein drinks that I have tried have a bitter taste to them and this was smooth without the bitter taste. I drank it first thing in the morning and I didn't even feel hungry after. The caramel taste was delicious . [This review was collected as part of a promotion.]Q the critic
Delicious protein shake!
Wow! This is the most delicious tasting protein shake I have ever tasted! It has an amazingly smooth caramel flavor. I used this protein shake as a meal replacement, and it kept me full for many hours. The Premier Pritein shake also has twenty four types of vitamins and minerals in it. I highly recommend adding this protein shake to your shopping list. [This review was collected as part of a promotion.]Heather
My local store sold out of Caramel only!
I don't know what it is about the Caramel flavor but since my sleeve surgery I absolutely love it. The premiere protein shakes are one of the only ones that I can still stomach afterwards. I guess because it's not as thick as some of the others.

They are sweet but it's a bearable sweet not a disgusting sweet like the pure protein strawberry shake yuckTCooper
I can't wait to buy this again!!
I love the caramel shake so much! I use it every morning and put into my iced coffee instead of creamer. It works like a charm!! It makes it super sweet which is just the way I like my iced coffee. The product is great without too many unnecessary calories as well. I'm looking forward to trying more flavors in the future.Sarah
I love this so much that I now signed up for subscriptions.
I love Premier Protein, especially the Carmel flavor. I use it almost daily. I go to Starbucks and get 2 shots of expresso in a Venti glass full of ice. I pour the Carmel or chocolate shake on top of the ice. It tastes like a Carmel macchiato or mocha. Only 2 WW points and 30 grams of protein. It's my go to drink when I'm busy. Yummy!! My husband started getting it to my stash because he loves them (he's a picky eater).LINDA
I have one every morning with my coffee
If you are a fan of specialty coffees, this is the perfect addition to your espresso! One caramel shake to your coffee or espresso and you can even add caramel syrup and whip if you are so inclined. Weight Watcher fans, this is 2 points to a zero point espresso and it tastes great!Gary
You may also be interested in