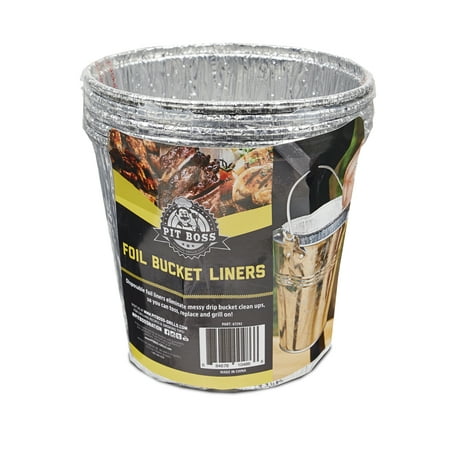 Keep your grill looking nice and clean with these Pit Boss Foil Bucket Liners. The easy to dispose and clean foil liners are handy for protecting your investment by covering the interior of your grease receptacle. Putting in these Pit Boss bucket liners means that you never have to wipe it out again. In addition, they help to save you time when it is necessary to replace them. Each one is embossed with the company logo for a bit of visual appeal. These grease bucket liners come available in a six-pack for your convenience. Keep your grill clean and mess free with the Pit Boss Foil Bucket Liners - 6pk.
Steel bucket not included
Helps to make cleaning out your grease bucket fast and simple
Easy to replace
Keeps your bucket clean so you never have to wipe it out
Customer Reviews
Keeps bucket clean
These are pretty handy. They say to replace them often. My often is when the bucket is full. Little difficult to wiggle around the handle to get it out. But it's way better than giving the bucket a wash.Farmer
Disposable Buckets
Good throw away type buckets. Should be all I need for a long time.Onemahan
Foil Liners
Great product. Fits perfect and is a reasonable price for what you get.
You may also be interested in