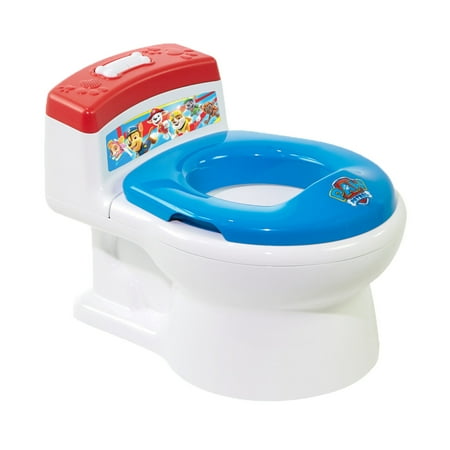 Chase is here to help you and your child during potty training with the Nickelodeon Paw Patrol Potty & Trainer Seat! Featuring a reward chart, stickers, and fun sounds, there's multiple ways to keep your toddler engaged while potty training. Using the stickers on the reward chart is a great way to visually track your child's progress. The buttons on the "tank" can also be pushed for realistic flushing and cheering sounds after your child uses the potty. A lift-out pot with smooth sides makes it easier to clean up after successful attempts, and the potty ring has a built-in splash guard for less mess. When your child is ready to move from the potty to the adult toilet, the detachable trainer ring helps to ease the transition.
Toilet training seat detaches to fit on full-sized toilet once child is potty trained
Use the included stickers on the reward chart for a fun way to track progress
Easy clean pot with smooth sides for quick cleanup
Flush handle makes rewarding sounds
Potty Training Tips:Start with a floor potty chair. Is your child a Minnie Mouse fan instead of Minnie? Try the Disney Minnie Mouse 3-in-1 Potty Training Toilet!Let your child become familiar with sitting on the potty. Have them try at first with their clothes on, then with clothes off once they feel comfortable.Each day as you dress or undress your child, have them help. This will give them more confidence as they undress for potty training and help make things less stressful for both of you.After a successful attempt, have your child watch as you empty it in the toilet to show them where it belongs. Some children love flushing, but for some this can be scary. If your child is comfortable, make flushing part of the routine. If not, postpone this step for a while.Have your child practice washing hands after every time they sit down, even if nothing happens. This is an important part of the routine and often a fun part of the training for children.Encourage your child with positive words. If they aren't successful, praise them for trying. Let your child set the pace and keep in mind that the toilet training process is a series of small steps. Encourage your child each time they achieve a new step and then mention the next step in the process casually, suggesting that they might want to try that next step sometime in the future. After your child does successfully go to the bathroom using either the potty or adult toilet, celebrate the achievement!
Customer Reviews
Better off using a dang bucket!
All of the pieces are meant to just sit there instead of fitting into one another so the toilet is constantly falling apart. It's almost like someone is playing with blocks that just sit on top Of one another and every time you go to put a block on the whole thing falls apart! This potty chair is crap!stormy
Perfect for a kid who loves Paw Patrol.
My son is in the midst of potty training this is the second type of potty we've gotten him. He seems to be less afraid of this particular potty because it has the applause and flush sounds. He loves Paw Patrol.MACHEALA

got him up and going to the pottyLeigha78
You may also be interested in