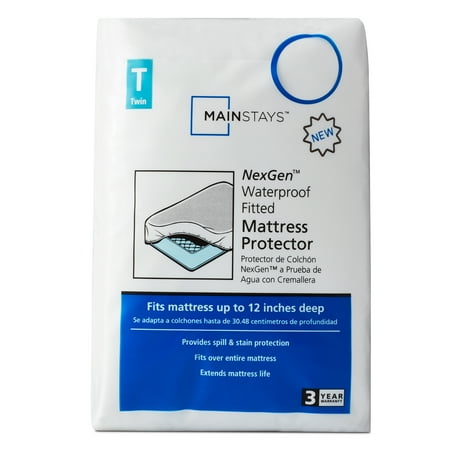 Warranty: 3-year manufacturer's warranty against defects in workmanship or materials only. Warranty limited to the manufacturer's product purchased from an authorized dealer.
Gen (Next Generation) fabric provides not only a complete moisture barrier but is also hypoallergenic! For a stress-free solution to long term mattress care and the top choice alternative to noisy and uncomfortable vinyl mattress protectors make the smart switch to Nex
Gen for your bedding protection needs.
Customer Reviews
Great fit
The Mainstays NexGen Zippered Mattress Protector is a life saver. This product is fantastic. It helps prevent dust from getting on your mattress. It's also good if you have a small child who sometimes sleeps in your bed and me wet the bed on occasion. This will completely protect your mattress from any spills or any little accidents. It is easy to put on your mattress. I would highly recommend everyone.Sk6760
An investment must
We love our Mainstays mattress protector. I have a large sweaty husband and three dogs that sleep and hang out on my bed. And protecting my thousand dollar mattress is a must. I figure if I am going to spend that much on a mattress it only makes sense to protect my investment. We spend a lot of time in our bed, so we snack and drink, and the dogs are very messy. And this wonderful mattress protector saves me a great deal of stress and you do not even know it is there. Because it is so quiet and soft, I have had other that were like a plastic sheet, and thats not comfortable. I think everyone should use these, and at this price point, who can't afford too.Countrygirl
does it's job
this mattress protector does it's job well. It is water and sweat proof so my mattress won't get sweaty after hot summer nights. It is made out of polyethylene and feels like a light plastic cover. when you put your sheet on, it does make a slight plastic sound, but not loud, and you cannot feel any difference with your sheets. this is a queen size up to 12 inches deep, so it fits my 11 inch mattress just right. it has a zipper closure and is easy to put on. it is also easy to clean, you just wipe it with a damp cloth. I am very happy that it also protects against allergens and that it has a three year warranty.mommyofet
You may also be interested in