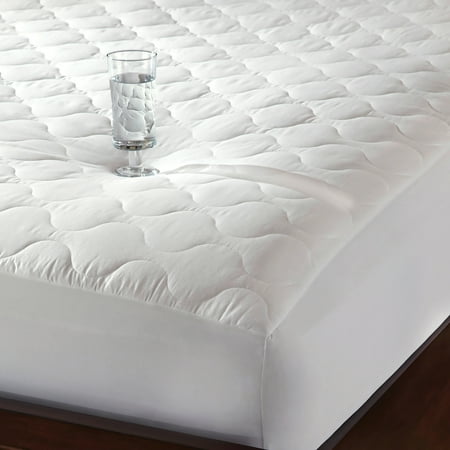 Keep your bed protected with the Newpoint Quiet Waterproof Cotton Mattress Pad. It is quilted with hypoallergenic polyester fiberfill and a special polyurethane layer that provides quiet, yet durable protection. This product features a 180-thread count combed cotton outer layer that draws away moisture from the mattress. The pad does not contain the look or feel of plastic sheeting found in most waterproof pads. It fits mattresses up to 22" deep. It is white. machine washable and easy to keep clean. This polyester mattress pad is available in various sizes.
Fits mattresses up to 22" deep
Machine wash the white mattress pad and tumble dry1-year warranty180-thread count combed cotton draws away moisture from the mattress
Quilted with hypoallergenic polyester fiberfill
Special polyurethane layer that provides durable protection
Eliminates the plastic sheeting in most pads that are waterproof
Customer Reviews

Very confortable exactly what I wanted it to be underneath is like plastic but not super cheap plastic that tears easily so thats a plus its not noisy so I love that and it definitely gets the job done for my toddlers who like to sneak cups of water in their room and spill it in the bed lol very happy and satisfied worth every penny ..... please wash on gentle and tumble dry or that plastic will melt with too much heatShauna
Nice, quiet x-long twin pads.
We needed new bedding for our new bed. It's always nice to have added protection for mattresses, so we thought we'd give the waterproof pads a try. I was afraid that they might be too warm for sleeping, but that has not been the case.

The pads fit the new king bed and they are quiet. The padding part bunches just a little near the edge in a couple spots, which is why a gave a 4 on 'meets expectations'. However, it really isn't a big deal and those small areas will probably smooth out more with time. We're very happy with them, and I would buy them again.glassieladie
Great product so far...
This product has been on my bed for almost a week now, so this is a preliminary review. It is very comfortable, fits my extremely deep mattress and stays in place. It is a good buy and appears to be of good quality. The final test will be the waterproofing, which hasn't been necessary yet.
You may also be interested in