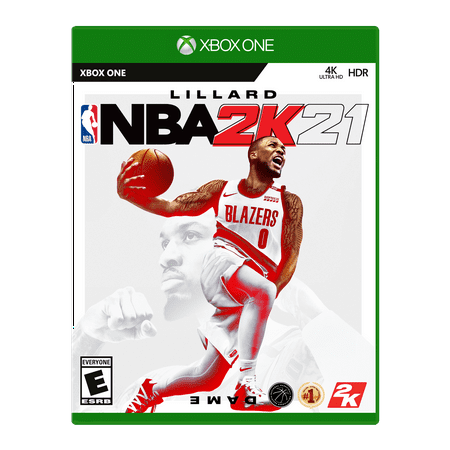 NBA 2K21 is the latest release in the world-renowned, best-selling NBA 2K series. With exciting improvements upon its best-in-class gameplay, competitive and community online features, and deep, varied game modes, NBA 2K21 offers one-of-a-kind immersion into all facets of NBA basketball and culture - where Everything is Game. In NBA 2K21, new, old, and returning ballers alike will find exciting game modes that offer a variety of basketball experiences.
CAREER: Embark on your own personal, cinematic basketball journey to reach your ultimate destination: the National Basketball Association. Build up your custom My
PLAYER and take him to the heights of their career and stardom, and make a name for yourself in the global basketball universe.My
TEAM: Assemble your G.O.A.T. NBA fantasy team of current players and historic legends and compete against the world.NEIGHBORHOOD: Live out your virtual, day-to-day basketball life in a neighborhood that doesn't sleep and that always offers something to do. Jump in on 3v3 streetball runs with your crew, or play for bigger stakes in 5v5 Pro
Am games. Shop for the latest sneaker and apparel drops.My
GM/My
LEAGUE: Sit in the boss' chair, and make decisions that matter not only to your player or team - but to the entire franchise and league. From drafting impact rookies to relocating your team, every move counts towards the long-term success - or failure - of your basketball franchise.PLAY NOW: Jump into a no-frills basketball game, where you can get a quick match together against a friend or AI and play 4 quarters of intense NBA 2K basketball. Pick your favorite team - or a Classic or All-Time team - and run the offense with genre-defining controls and customization.REALER THAN EVER: With enhancements across visual presentation, player AI, game modes, and much more, NBA 2K21 continues to push the boundaries as the most authentic, realistic basketball video game experience.ELITE GAMEPLAY: Enjoy unparalleled control with the ball in your hands, using the advanced Pro Stick. Aim jump shots and layups for a new level of precision and skill, and unlock new signature dribble moves with more effective ball handling.YOUR G.O.A.T. TEAM: Build your greatest collection of latest NBA stars and legendary ballers in My
TEAM and compete against other ferocious collectors around the world. New for 2K21, limited-time Seasons offer unique rewards as you compete in new and returning My
TEAM modes.NEW My
CAREER STORY: Ascend from high school ball to one of ten officially-licensed college programs to the big leagues in a brand new, cinematic My
CAREER experience. Take your My
PLAYER to the top by making the big moves on the court and even bigger moves off of it.NEW NEIGHBORHOOD LOCALE: Soak in the sun as you ball out in 1v1s, 3v3s, and 5v5s; the new Neighborhood in 2K21 takes your game beachside with all-new visuals and layout. Flash your skills & style in the Park, squad up in Pro-Am, and earn prizes in dynamically-updated 2K Compete Events.
Customer Reviews
Nba 2k21
It's good gamesMontae
GREAT
I ordered it this morning wasn't supposed to be here until tomorrow but five hours later I got it perfect thing kids are even happier ️thank u very muchjames
It was what my cousin informed me about
I got the game for my little cousin for his birthday cuz thats what he asked me for n he said he like the game but the only thing is he said that had me laughing was he said that he was trash at the game but he was like he just have to practice more on the game so he can get better at the gamedarius
You may also be interested in