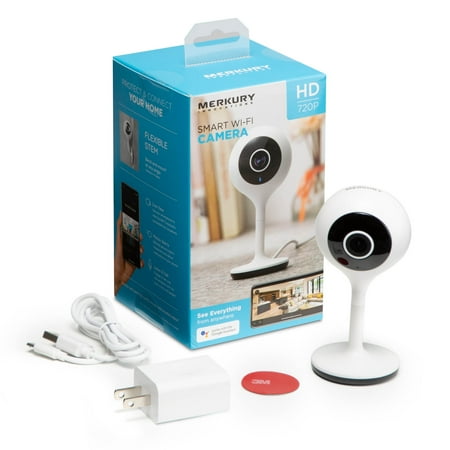 Check in at home from anywhere in the world with the Merkury Innovations Smart Wi-Fi 720P Camera. Installation is simple: Power on the camera, download the Geeni smart home app, and follow the easy step-by-step connection instructions. These little cameras make a big difference in home security. Place them anywhere or stick them to most walls and ceilings for the perfect vantage point. Our cameras monitor your home 24/7 and send notifications to your phone instantly when motion is detected. 2-way communication lets you hear and respond to household members and guests. Compatible with any standard micro SD card for storing and reviewing footage. No hubs required and it works with your already existing 2.4 GHz Wi-Fi network.
No hub required, Wi-Fi is built in24/7 live video streaming: see your home on your phone in 720p HD and control vision from anywhere   Alerts on your phone: get motion alerts so you know if anything happens Night vision done right: see the whole room at night
Talk and listen: hear the baby or talk back to get someone's attention
Flexible stem to bend and mount at any angle
Turn alerts on and off by voice with Amazon Alexa, your Google Assistant & Microsoft Cortana  Includes Security Camera,Mounting Adhesive, USB Cable, Power Adapter                                                              
Customer Reviews
Merkury Innovations Smart Wi-Fi camera
Review of Merkury Innovations Smart Wi-Fi camera 720 p.

This camera is about 4.5 inches high.

IMPORTANT: This is required to be plugged into an outlet for power. The power cord reaches about 3.5 feet. This has a "flexible stem" so that when you mount the base of it, you can bend the actual camera part whatever angle you need it to be. (This comes with a 3M mounting adhesive.)

It was very easy to download the app and get this camera up and running in just a few steps. So I will give it five stars for the ease-of-use feature alone. The video quality on this is clear. On the video screen it has an indicator of signal strength (i.e. 98% or whatever).

This automatically detected the correct date and time/time zone upon setup, without me having to set it up myself. So the timestamp on the video is correct.

This will hold a microSD chip. I have included a picture of FAQs from the instruction manual that gives a detailed explanation of memory card use versus using his camera without an extra memory card (not included).

This does have night vision feature. The video quality at night is as good as the day quality.

Please note that the blue indicator light on this camera stays on all the time. At night a red indicator light also comes on. (Edit: You can turn off the blue indicator light by going under the "basic feature settings". The only way to turn off the red indicator light for night vision is to turn the night vision feature itself off, which of course would mean you will not be able to see anything in the dark.)

This has the option to turn "motion alert" on or off. If you turn this feature on, and motion is detected by the camera, you get a notification sent to your home.

It is great to be able to access a home security camera live from my smartphone anywhere anytime. The description also says that you can have a two-way conversation over the camera, but I have not had a chance to try out that feature yet.

I am pleased with this product.Flowers91
little peace of mind
Wifi Camera love the way it works. It was hard at first to get it to uplink to the app. It didn't what to take the sum card for a few days then I reset it for the uplink that worked so I went a few days without a sums card then reset it again and put in a diff sum card. It has a nice crisp picture on SD and HD both. Had night vision and great sound on the app. Now the person that was listening through the camera said it was had to hear at first. When talking on the app you have to hold down the talk bottom till the min pic is fill before you can talk, I wasn't doing that. On the app you can rec and take pic of whatever is on the screen you can also playback as long as you have a sums card on it. You can add more than just one camera to the app. I would definitely recommend it if you're looking to have little extra security or just need to see what is going on at home. You can also make it bend to put it on the wall or to make it aim where you need it.Angy
Best for the price! Get two!
I Love this camera. It was so easy to set up, took all of 5 min. It's compatible with Alexa and Google Assistant. The video quality is great and you can mount it and the neck is bendable. It is not cordless and it cannot zoom or pan. However for the price it's pretty awesome! Connection is quick and there's also motion detection, night vision, 2 way audio and option to add a card to download footage. I'm definitely buying another one.
You may also be interested in