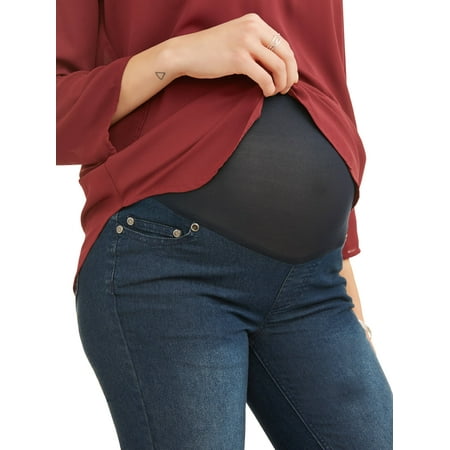 These Oh! Mamma Maternity Full-Panel Super Soft Straight Leg Jeans are a great addition to your wardrobe. These jeans provide the style of comfortable straight jeans during your pregnancy. The super-soft nylon panel stretches over your belly for maximum comfort and support. Pair these with your favorite tee or tank top for a stylish outfit! Available in Assorted Colors.
Maternity Jeans
Super Soft Straight Leg
Full Panel31" Inseam7.5" Leg Opening
Available in Plus Size5 Pockets
Machine Wash Cold
Customer Reviews
Good pants
These fit great, these are longer but I like the extra length. The pants are very comfy and I have been using for a couple of weeks the material seems to be holding up good. These are a bit big on me but give me room to grow (in the stomach area) I would definitely buy againkim
Wonderful product for pregnant women
These jeans made me feel more human during pregnancy so far. I don't understand completely how they ended up fitting me, but they have a full belly panel and lots of spandex/stretch in the legs, which helps them stay where they need to be. I haven't had any issues with the pants coming down and they look like normal jeans when the belly panel is covered with a shirt. I did have to hem the bottom because I'm short (5'3'') but used a fabric adhesion tape and steam iron to do the hemming and the final result looked great. Very happy with this purchase and bought it on sale/price reduced which made it a great buy, especially compared with other stores and their prices for full panel maternity jeans.Debi
Skinnier Legs
I really like the shape, color and fit of these jeans but the legs are really not a true straight leg. They are still a little bit too skinny, yet not quite skinny jeans. Just not what I was looking for.
You may also be interested in