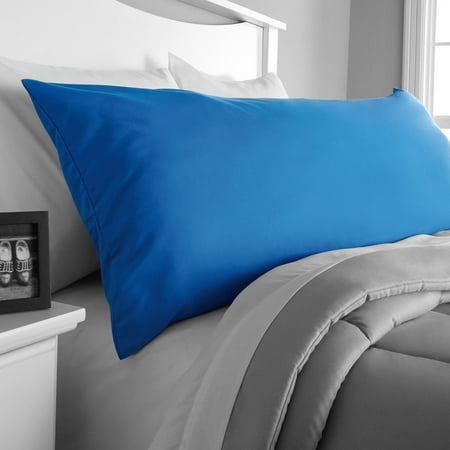 The Mainstays Microfiber Body Pillow Cover is a fun way to update the look of your bedding. Made from polyester microfiber, this case can be used to spice up your current decor or create a whole new look in your bedroom. The zippered pillow cover keeps debris and dust particles from decreasing the life of your pillow while also keeping the case firmly in place. It's machine washable for easy care and the large size enables you to use it to cover a variety of pillow sizes. This Mainstays body pillow cover is available in your choice of select colors so you can find one to suit your sense of style. It's very soft to the touch, which makes it more comfortable to snuggle up with your body pillow at the end of the day. The cover is compatible with select models of body pillow from various manufacturers.
Size/dimensions: 20" x 52"Made from 100% polyester; 85 gsm microfiber
Mainstays body pillow cover is constructed with a sturdy zipper closure on the 20" edge
Fits pillows that measure up to 20" x 52"Vibrant and fashionable design coordinates with a range of decor styles and color palettes
Plush pillow cover adds comfort and style to your room
Makes a fantastic accent piece
Machine washable for easy care
Blue body pillow cover is also available in black, blush, mint, tan or white
Body pillows are not included
Customer Reviews
Just what I was looking for!
I recently redecorated my bedroom in white and grey colors to brighten things up! As part of this makeover I needed a new body pillow pillowcase to cover. I found the Mainstays White Pillowcase at an extremely reasonable price! Shipping was quick and im pleased with my purchase. Upon receiving a washed it and saw no signs of wear. The pillowcase perfectly fits my body pillow with a zip closure, does not show the pillows print (turquoise and white), and is nicely stitched to last a long time! Also, the material is soft and not scratchy! I will be purchasing another in white and gray if they have it!
Met My Expectations
LoVe ItEspi
Great buy !!!
I order this item by accident and never decided to return, because we love the pillow covers. Items are use for my grand kids Pillow's in Fairbanks, Alaska and back home in California !!Herlinda
You may also be interested in