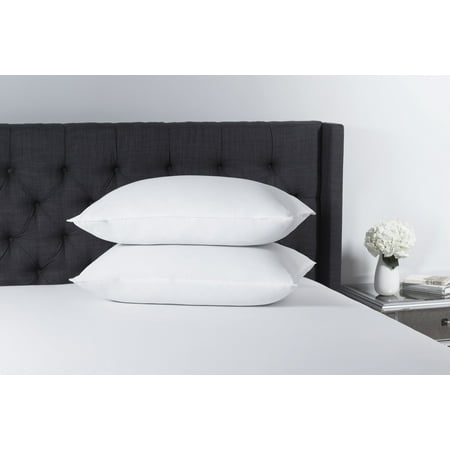 Looking for soft and comfy pillows? The Mainstays Microfiber 2 Pack Pillow is perfect for people for any sleep position. These white pillows are very soft and are made with 100% polyester microfiber shell to offer ultimate comfort and softness. These pillows are great to sleep on or to even use for sham stuffers when decorating your bed. It is filled with 100% hypoallergenic polyester fiberfill for support. This hypoallergenic polyester filled pillow is highly durable and provide softness and comfortable support for any sleep position. The rectangular shape offers a symmetry that will keep your room looking stylish. Available in 3 sizes.
Not only are these pillow excellent to sleep on, they can also be used to fill your decorative pillow shams
Durable 100% hypoallergenic polyester fiberfill for the perfect amount of support
Machine washable and dryable for easy care and maintenance
These pillows have a soft hand finish and can be fluffed for your desired sleeping position
In addition these pillows are perfect for your guest rooms, or those college dorm rooms
Perfect for all ages; children, teen and adults
Comes with a 3 year manufacturers warranty to ensure your satisfaction
Sold as a set of 2 pillows, can also be purchased separately
Standard size measures: 20 inches x 26 inches, with 16 oz fill
Queen size measures: 20 inches x 30 inches, with 19 oz fill
King size measures: 20 inches x 36 inches, with 23 oz fill
Customer Reviews
Out With The Old!
I needed pillows because the old ones just wouldn't do anymore after the last wash and drying. These were not overpriced and are comfortable and attractive.Granny
Terrible product. Don't buy!
These are terrible! There's no firmness at all. I laid my head on one and the pillow came up around my head and fell directly on my bed. I tried putting one on top of the other and got the same result. My dog won't even lay on them and he loves pillows.
Overstuffed
I would not recommend these pillows for someone to use, unless they like a giant overstuffed pillow. I bought them to put my pillow shams on, basically for decor. So they fit my need perfectly.Nonnie2011
You may also be interested in