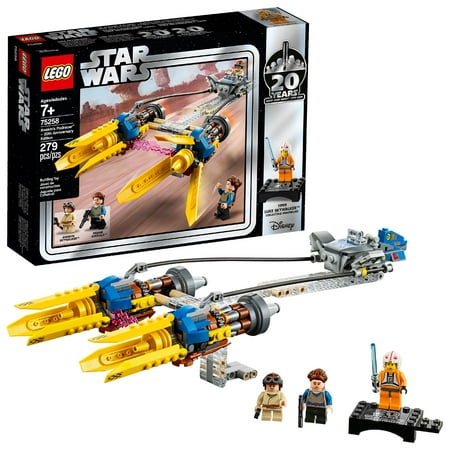 Celebrate 20 years of LEGO Star Wars building sets for kids with 75258 Anakin's Podracer vehicle. This reinterpretation of the original 7131 model released in 1999 features big engines, extending flaps, space to fit the young Anakin minifigure in the cockpit and a play handle that lets kids play out endless Star Wars: The Phantom Menace races around the living room! This LEGO Star Wars gift idea also includes a Padmé Amidala minifigure plus a bonus Luke Skywalker minifigure and display stand with 20th anniversary logo to celebrate this milestone in the LEGO Star Wars saga.
Customer Reviews
One beautifully detailed racer
This is the only 20th ann set that triggers my interest to buy because I am a sucker for Star Wars racers/speeders you name it.... I have to say the photo doesn't do it justice...real thing looks much much better!! Also, the minifigure selection is excellent. In terms of movie accuracy and money for value...In my opinion this is the best Star Wars set of 2019 so far...

LEGO really nailed this one!brokenstaral
Nice looking fun build
Really enjoyed building this. The clear technic brick stand looks a lot nicer than the older version. Stands up surprisingly well for how minimal and out of sight the stand is and looks pretty cool. The only complaint possible would be having some stickers instead of decals.
Nostalgia
The pod racer was the first Star Wars LEGO set that I had ever had, so when this one came out I knew I had to have it. It was a fun little build and the details are so much better than the original. The minifigures have so much more detail than the originals, and I love the 20th anniversary minifigure that was included. I would definitely recommend adding this to any Star Wars collection you may have.ChrisP
You may also be interested in