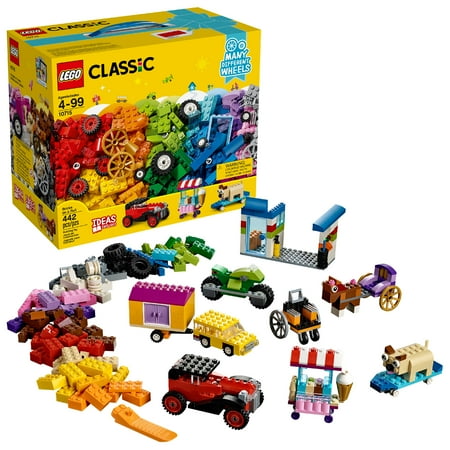 Put your LEGO® creations on wheels with this exciting LEGO Classic 10715 Bricks on a Roll set, featuring a wide selection of wheels and tires in a variety of colors and sizes, plus a colorful selection of LEGO pieces, including building bricks, shapes and eyes. This set makes a great addition to existing LEGO sets and includes age-appropriate building instructions that will help your child discover their creative building skills.
Customer Reviews
I would buy these Legos again!
Bought for my children for Christmas. Exactly what was described.Camille D
Great Purchase
I purchased this lego set for my 11 year old son. He loves building with the duplo legos. It comes with so many blocks. He was grateful that they provided a tool to help pull the legos apart when they get stuck. It came with instructions for 4 and then they redirect you to more instructions to build online.
Awesome toy for 4+ , with some very tiny parts.
I bought two of these. One as a gift for a 6 year old and one for my 4 year old. The six year old loved it. The 4 year old loved the stuff I made him, mini cars and a monster truck, but got frustrated when playing by himself. We've only been playing with it a week so I guess with time he'll figure it out.

Summary:- awesome toy, great quality, several very very tiny parts e.g. flat dot lights about 2mm in size that go on cars. So if you have a very young child in the house that likes putting things in his/her mouth, this toy is a no no. Other than that, I strongly recommend!husband
You may also be interested in