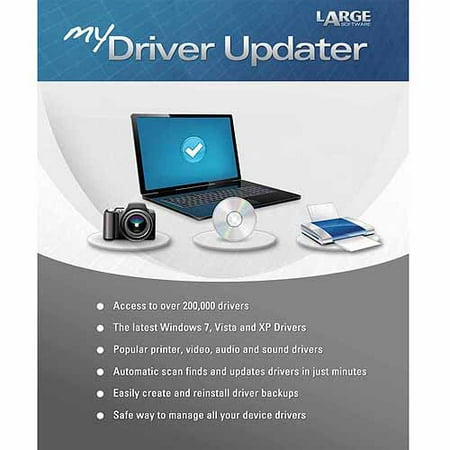 My Driver Updater allows you to find and replace outdated drivers instantly.Email delivery with digital code.
Having the correct driver can improve the functionality of your hardware device by as much as 50 percent
Regular scans with My Driver Updater will find and replace outdated or corrupt drivers on your PC ensuring that your system is always fully optimized and running smoothly
My Driver Updater has a database of over 350,000 drivers
We are constantly updating and editing the database to make sure that we have the best driver updates available
Windows 7, Vista and XP
What is Electronic Software Download or Digital Code product?Electronic Software Download or Delivered product is just like box software equivalent. This is a full version of the software, usually with the exact same End User License Agreement (license/use rights). The customer downloads the product directly to their computer from the Publisher site or a secure source endorsed by the Publisher rather than installing from a disk. The download link, instructions and license key are set to the customer via email, usually in 1-3 hours from purchase (deliveries can take up to 24 hours). Product keys are available if lost, and product can be re-installed if needed. For Services, the key that is sent is all that is needed to activate the service from the manufacturers site. Email communication will come from our service provider at (
[email protected]
).
Customer Reviews
Very good product, would recommend it to anyone...
Worked the moment it was uploaded, it even fixed my printers wifi problems.jalnuquin
Simple and easy
I was going crazy with other product BUT this was simple to useLinda
A great product that work
A great product that really work.hohe11