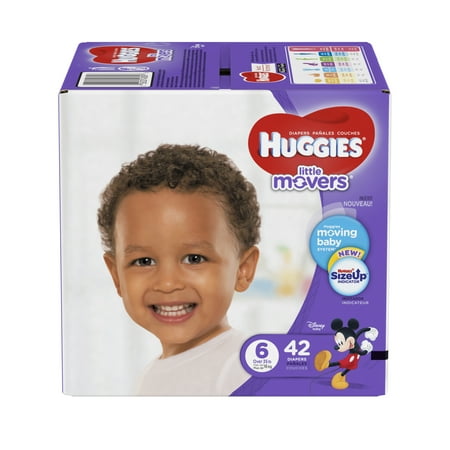 HUGGIES Little Movers Size 6 diapers feature our NEW design with Double Grip Strips that fasten at four points, offering a superior fit and great protection for your active babies and toddlers! Little Movers diapers with New Double Grip Strips and a stretchy SnugFit waistband give an all-around secure fit for your baby. And, Little Movers diapers provide LEAK LOCK protection to keep your baby comfortable and dry between changes. HUGGIES Little Movers baby diapers have a flexible pad that twists and turns to keep up with your active adventure-seeker. Even the most energetic jumpers, crawlers, and walkers are no match for Little Movers diapers.
More absorbent with improved Leak Lock--the protection and security you both need between changes
Everyday protection you can count on
Mickey and friends design
Available sizes:Size 3 (68 count) for 16-28 lbs.Size 4 (56 count) for 22-37 lbs.Size 5 (50 count) for 27+ lbs.Size 6 (42 count) for 35+ lbs.
Customer Reviews
stays put
My baby is large for his age and it's been hard to find a diaper that stays put. The side taps always pull out and my baby garbs them and off comes the diaper. This product has solved this problem.countrymom06
BEST DIAPERS FOR TODDLERS
I find these diapers to be the best for kids 2 yrs and up in process of potty training. They really hold up well to all their moving around and are also good for nighttime sleeping. LOVE THEM and I was always a pampers only customerlongisland24
excellent quality
I will purchase these until my baby grows out of them. Great fit & very absorbent.NeceRae