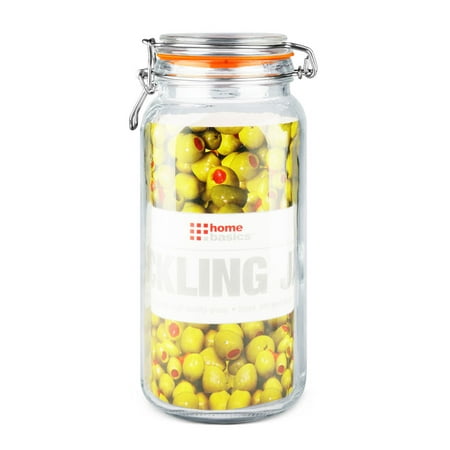 The perfect jar for preserving soups, jellies, jams, sauces, fruits, vegetables, rice, and pasta. Solidly constructed of thick glass, this jar features a wide mouth to make filling and preserving food simple and easy. The transparent finish beautifully showcases the contents inside, while also making it easy to know when it's time to stock up. The metal bail lid and vibrant orange rubber ring, provides an air-tight seal, resulting in longer shelf life. The simple design will make it perfect for everyday canning and preserving, a nifty gift jar to corral sweat treats, or a dashing decorative center piece to complete your home.
Multi-purpose glass jar is perfect as a gift container and centerpiece or for canning and preserving pasta, pickles, sauces and more67.5 oz. capacity
Steel bail lid and rubber gasket keeps food fresh and flavorful
Made of heavy duty glass
Measures 4.5" x 4.5" x 10"Hand wash for easy maintenance
Pair this piece with our line of juicer tools, kitchen gadgets, preparation tools to quickly and efficiently craft your culinary creation
Customer Reviews
Works out nice
I make a gallon of yogurt twice a week. Bought a wide mouth canning funnel and two of these babies, but with the white silicone seal. Yogurt goes straight into these jars and into the fridge. Everyone knows where to find it, and the lid never gets lost. Meanwhile, I regularly buy large cans of tomato sauce and store it in these jars with the red seal. No waste, no fuss. Easy.
Perfect
Great quality. Glass is thick and the seal is tight. Perfect for keeping sugar. Opening is larger enough for a 1/2 cup.YQMM
Good jar
Jar holds a lot and the taller size is convenient to store with less space in pantry. My other jars are a lot wider.Ed94x
You may also be interested in