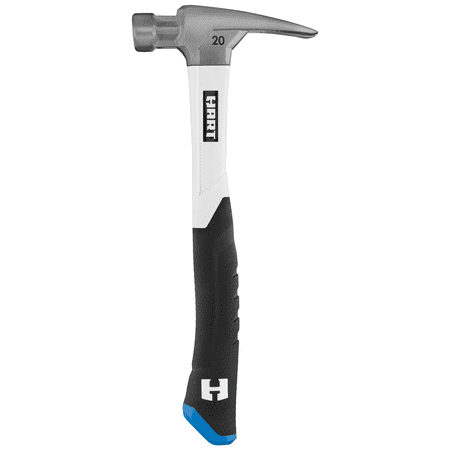 The HART 20 oz. Fiberglass Hammer is a welcome and excellent addition to any diyer tool belt. The lightweight and durable design makes for a great hammer that is perfect for any project. This Fiberglass Hammer features an angled smooth face allowing for a straighter nail drive. This hammer also features a magnetic nail starter to make it easier to drive nails. The straight nail claw adds versatility and helps to make pulling nails easier. This hammer is also covered under HART limited lifetime warranty so you can rest assured that you are getting a quality tool that will last you throughout your many DIY projects both in and out of your home. Whether you are building a fence, adding on to your garage or simply assembling the newest addition to your living room furniture, you can do it knowing you have got a quality tool to assist you along the way.
Key Features
Angled face for straighter nail drive
Magnetic nail set for easier nail starting
Micro-textured handle provides a comfortable, secure grip during use
Great addition to your collection for general home maintenance and repair
Covered by a Limited Lifetime Warranty
Rip claw for versatility
Includes: (1) 20 oz. Fiberglass Hammer
Specs: Material: Fiberglass, Weight: 20 oz.
Customer Reviews
Great Hammer!
Was looking for a good sturdy hammer for my boyfriend and was very pleased with with I got. It has a good strong handle and the magnetic nail set is a cool feature. Overall, its a great hammer for the price.Emily
Amazing nail starter
This is one of the best hammers I have ever owned. It has weight to it that makes stability great. It's easy to use and very sturdy. It was a rubber like covering on the handle that makes it easy to grip. I overly love this hammer. If you are a diy person then you definitely need this one. I encourage everyone to get one.LoLo57
Heavy Duty
This is one heavy duty, well made hammer. I like that the handle makes it easy to grip and you can drive nails with force because of the weight of the hammer. The magnetic nail starter is a huge plus. Just what I needed...AtlgrlinLA
You may also be interested in