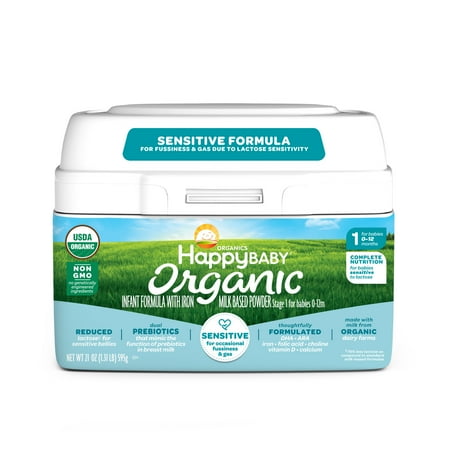 Happy Baby Organic Infant Formula Stage 1 Sensitive specially designed with reduced lactose for sensitive bellies, our sensitive stage 1 Organic Formula provides complete nutrition and help with occasional fussiness and gas.
Non-GMO Projected Verified
Contains milk & soy ingredients
Key vitamins & minerals
Dual prebiotics
Reduced lactose
Customer Reviews

This is the best formula. It's pricey compared to other brands but it's worth it to have peace of mind. The ingredients are clean and organic. It's one of the only formulas that my baby tolerated without getting stomach aches.mrsj12

THE ONLY formula we use and his tummy has thanked me for it. We went through weeks of not months of reflux, tummy issues, spit up, and one large throw up session before i was about to give up and switch him to soy I used this because my other organic sensitive formula was no longer in stock. HE LOVES IT!kte8078

My baby really enjoyed this formula until she got constipated due to it having so much iron. I sadly had to go back and use something else.