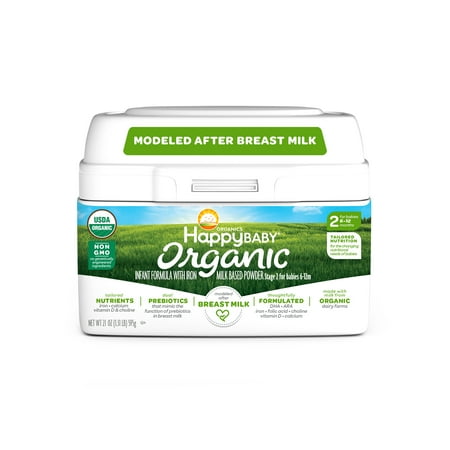 Modeled after breast milk, our Stage 2 organic infant formula is crafted with carefully sourced, premium ingredients, and tailored to meet the nutritional needs of babies six months of age or older. Happy Baby Organic Infant Formula thoughtfully combines organic lactose, dual prebiotics, and essential nutrients, including calcium, vitamin D, iron, DHA, ARA, folic acid, and choline, to help nourish and support your little one during this precious time of development. Here to a happy start! Before using an infant formula, ask the advice of your healthcare professional. Powdered infant formulas are not sterile and should not be fed to premature infants or infants who might have immune problems unless directed and supervised by your baby's doctor. Modeled after breast milk and made with carefully sourced, premium ingredients. Our Stage 2 formula is made with organic lactose, the principal carbohydrate found in breast milk. Stage 2 includes higher amounts of important vitamins and minerals, including vitamin D, vitamin C, choline, zinc, copper, calcium, phosphorus and iron. It also contains essential fatty acids, DHA and ARA that help support baby's brain and eye development. Our formula delivers two prebiotics fibers that mimic the function of prebiotics found naturally in breast milk - which promote healthy gut bacteria in infants. Our formula has up to four times more prebiotics than other organic infant formula on the U.S. market.
Customer Reviews
Great formula
I did a lot of research before buying this formula. My little one's poop does not have a formula smell. It mixes very well and I don't get any clumps. I use warm water to mix and a standard baby bottle. No reflux issues with my daughter, did not have any spit up either with the formula. I strongly recommend this brand.Jeanette
Great
My baby was breast feed for 6months then I switched to formula this was great. Had 0 issues with his tummy. Wish I would've had this for my first born.
My son loves it!!
My 9 month old was ebf so he was fussy when it came to formula, but he loves this one way more than any other formula we've tried to give him. It is pricey but its organic and has the best ingredients compared to others, also there's a nifty little handle holder for the scooper :) Thanks to the weeSpring Parent Panel for providing me with this formula for free!Happycustomer
You may also be interested in