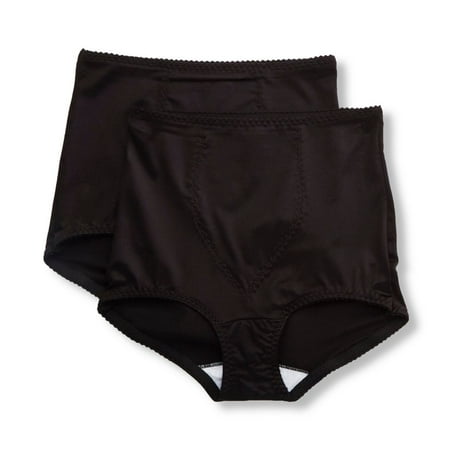 Having tummy trouble? We have the perfect remedy for all your tummy problems —the Smoothing Brief with Tummy Control Panel from Hanes. Smoothing features include a 2-ply front panel that focuses on your midsection to give you a more streamlined silhouette and a touch of spandex for a fit that stretches with you for added comfort. The breathable cotton crotch liner provides a comfortable layer of protection. So make your stomach problems a thing of the past with this fast-acting smoothing brief from Hanes.
Nylon-spandex blend provides light smoothing and stretch
Breathable cotton lining
Customer Reviews
Big Girl Support
I am a 52 year old, 5'2, over 240 lbs. plus sized woman from Pittsburgh, PA. I was so happy to find out that my size was available to order from the Hanes.com website. I ordered six packages of size 4x shaping briefs. I love the affordable price, how they feel, fit and look. I would recommend this website not only to friends, but to anyone who is looking for quality undergarments from a reputable company. The store that I used to purchase my Hanes shapewear is now out of business. Dear Hanes, Please continue to make these products, because Big Girls need support too! Thank you!Miss Marlo
Comfort and affordable
They are very comfortable and also affordable. I have been getting this specific style for about 15 years. Please don't ever discontinue this style.Violet
Hanes shaping briefs
Love them! I have worn these for years, then was unable to find them in stores( even the Hanes/Bali/Platex outlet stores), so was very glad to find them online!
You may also be interested in