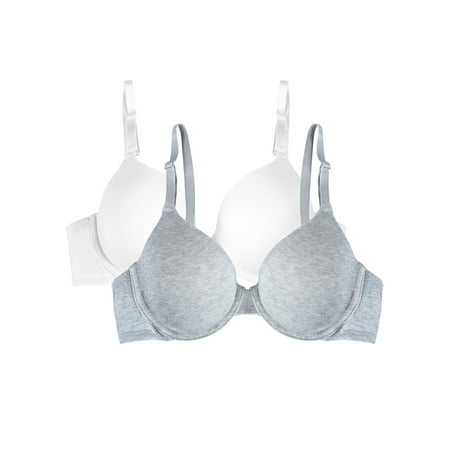 A busy life demands a supportive dependable bra. This Fruit of the Loom Women's T-shirt Bra is light lined for a natural look and includes an underwire for extra support. Fruit of the Loom has been one of America's most trusted brands for over 160 years. We promise to deliver quality undergarments at an affordable price…always. Start everyday happy with Fruit of the Loom.
Light lined
Underwire2 pack
Additional colors available
Rear hook-and-eye
Adjustable straps
Unconditional Guarantee
Care Instructions: Hand wash cold with like colors; Use only non-chlorine bleach when needed; Line dry; Do not iron.
Customer Reviews
So good, I don't think about my boobs anymore!!
Small band, big cups, Winner!! I don't know how many bras I've tried on, probably more than 50. This, THIS is the one!!!! For reference, I'm 185 lbs. My chest under the boobs measures 34", allowing for fat squish. Over my boobs, 42". The 38DDD fits best, closed on the tightest hooks. I could probably get away with a 36DDD if I lose 5-10 pounds, but right now that band is almost too tight. The cups in a 40DDD would probably fit better, but the band would likely be too loose. So, with my 38DDD I'm *finally* feeling good about how my chest looks! The shape is structured, the support is excellent, and my boobs look lovely and round. Not pointy, no extra lump in the front, no worries. After breaking it in, it's so comfortable, I forget that I have it on. With the weight of my boobs, my shoulders do ache a bit, but my back and my posture are significantly better. I'm have tears of joy in my eyes writing this..There really wasn't anything wrong with my body, after all! It was really just all the ill-fitting bras! I don't care how often I will have to replace these, these are worth it to me. I finally felt good leaving the house, and you can't put a price on that. I ordered several packs.Daria
Love it!!
If you cant afford an expensive bra trust me this is worth it you cant expect a 14 dollar 2pk bra set to be the same quality as one compared to 50 dollars for one overall its very durableCamiah
BOMB!
Buying bras is harder than it needs to be.. and I was skeptical about these since I bought them online, but let me tell you that if I can't get these bras forever, I dont think I'll wear a bra ever again. They hold these bad boys together with comfort!Loveem
You may also be interested in