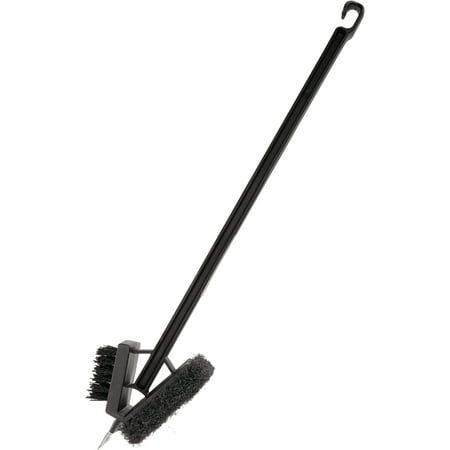 The original XL two-sided Double Grill Brush. Made from only the best and most durable materials. Use this Expert Grill XL Double Grill Brush to quickly and easily clean your grill and griddle for improved grilling performance and a longer grate life. This XL Expert Grill BBQ Grill Brush is a 3-in-1 double-sided cleaning tool with an extra-long handle and a stainless steel scraper. On one side there is a heavy-duty scrubber pad made from polyester and on the other is a durable brush side made of heavy-duty nylon bristles that safely deep clean the grill to help remove burnt-on food and grease, even from in between grates. This double brush also features a stainless steel scraper for the toughest messes and the worst burnt-on spots on the grill. The XL grill brush has a very comfortable handle made from polypropylene, so you can scrub your dirty grill until it looks just like it did when you bought it. Keep your grill looking shiny and new all summer long, both after you cook and before you use it for the first time in a while, with this XL Expert Grill Barbecue Grill Brush. For use on cool surfaces only.
Made from only the best and durable materials
Long-reach handle works on tougher stains in difficult locations
XL brush side is made of heavy-duty nylon bristles for deeper cleaning
Heavy-duty scrubber pad side speeds up cleaning
Large pad surface reaches into difficult to clean edges and corners
Stainless steel scraper tackles the worst cooked-on messes
Comfortable handle adds extra grip to work out tougher messes
Handle is made of polypropylene
Scour pad is made of polyester
Built in hang-hook for easy storage
The perfect 3-in-1 cleaning tool to make every cook-out even easier
For use on cool surfaces only.
Customer Reviews
love it
Bought this for my husband for Father's day and it works great for cleaning the grill.Michelle
A-1
I have not used as yet. But looks like it will be A-1 ratingTC
Strong construction and very handy
What makes this grill brush great is the handle is long so you don't get the grill gunk on your hands and arms.gizmopug
You may also be interested in