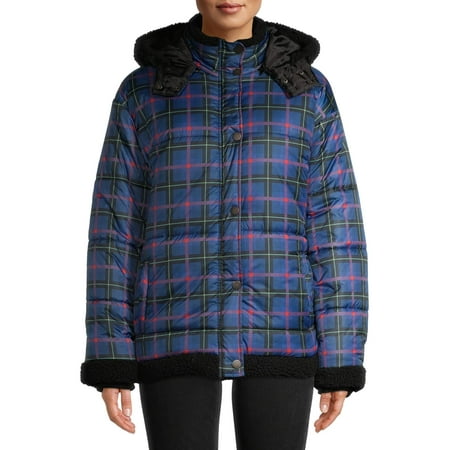 Power to the plaid! EV1 gears you up for the season with this Plaid Puffer Jacket pairing oh-so well over your dark-wash jeans along with your pumpkin spice latte! Sold exclusively at Walmart.
Generes Plaid Puffer Jacket for Women This inclusive brand from Ellen De
Generes was literally made to "put a smile on everyone's face!" Not only is everything affordable, but it's all comfortable, too. These are clothes that let you feel good in your own skin.
Customer Reviews
So cozy I want to live in it!
This is the comfiest puffy coat,.....it feels so luxurious and warm, I am reluctant to ever take it off.
Well made and has good quality zippers, snap buttons and deep pockets. Honestly feels as though I am wearing a soft sleeping blanket.
Beautiful color, as well.Chandler
Very well-made.
I purchased this jacket because of the positive reviews it received regarding the high quality. Those reviews were spot on! I am very impressed with the quality and can tell (I haven't worn it yet,) that it's going to be super warm. Glad I purchased it!SCollins
Different type of a winter jacket to keep warm in.
Although the cut is plain, the blue plaid is bright and the jacket is fleeced lined so it gives warmth to the wearer on those cold days and nights. I bought the XXL expecting it to be loosely fitting. But for me, it fits perfectly and is not overly loose at all. I have found that EV1 clothes is refreshingly different and nice to wear and in style. Ellen has fine taste in clothing and I hope she continues designing clothing because she is good at it.PickyFeet
You may also be interested in