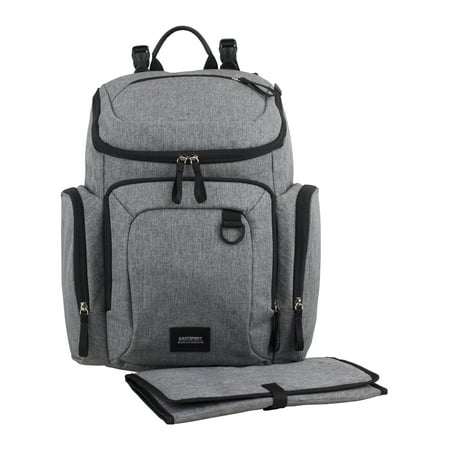 The Eastsport Wooster St. Diaper Backpack is a trendy stylish bag that is functional for all your baby care needs. Made of durable chambray material, this bag has a zippered insulated exterior front pocket, plus two handy side pockets. Inside, the backpack offers a ton of storage space with a mesh pocket, a zippered compartment, and four slip compartments. Feel free and confident in taking your electronic devices while on the go, with a secure front top tech pocket. This backpack also comes with a matching changing pad, which can easily be stored in its own pockets. The bag comes with adjustable clip snaps that easily allow it to snap onto any stroller handles. If you choose to wear the backpack, padded adjustable shoulder straps will help give you a perfect fit, making the Eastsport Wooster St. Diaper Backpack the perfect bag for all the little one's needs.
Exterior Side Zip Pockets
Exterior Front Top Tech Pocket
Changing Pad
Changing Pad Pocket
Stroller Attachment Straps
D-Ring On The Front
Interior Mesh Pocket
Interior Zipper Compartment
Interior Slip Compartments
Keychain (Dog Clip)Size: 16.75" x 12.5" x 7"
Customer Reviews
I recommend it for one baby needs not two or more
Very good product it fulfill my need I love following my instructions for the deliveryHind
amazing
no purse needed. fits diapers wipes powder clothes blankets wallet phone bottles toys pump stuff and so much more and the stroller or buggy holder attached and everything. amazing. not too big but can hold everything you need and more.
Great diaper bag
My daughter really loves this diaper bad. All the compartments are really great. It has a great capacity to hold a lot of items including bottles, diapers, wipes, etc. I would definitely recommend it.Sharon
You may also be interested in