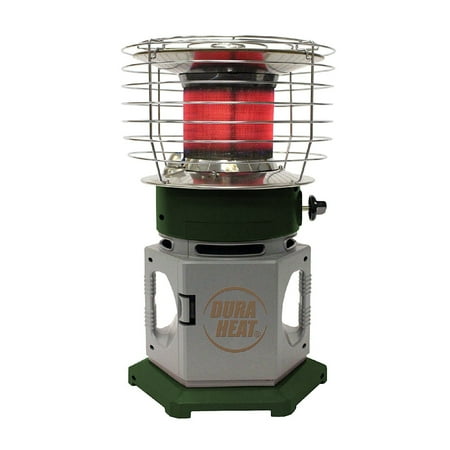 The Dura Heat Portable 360degree Indoor Outdoor Propane Heater provides 360 degrees of heat that you can take with you almost anywhere. With its durable styling, it's a wonderful choice for outdoor and emergency indoor situations as it uses a disposable 1 lb. propane cylinder, making it completely portable and able to be used inside in an emergency. When using outdoors, you have the extra option of hooking it up to a 20 lb. refillable tank with the optional extension hose. The convenient carrying handle on this portable 360 heater will allow you to easily move it to any location when needed and it also features a safety tip-over shut off. It's ideal for sportsmen, construction job sites, garage or workshop and much more giving you the heat you need to stay warm and toasty. This Dura Heat Portable 360 Indoor Outdoor Propane Heater is the best choice for the solution for providing extra heat in many different situations.
Built-in convenient carrying handle for easy mobility
Safety tip-over shut off
Disposable 1 lb. propane cylinder
Extra option of hooking up to a 20 lb. refillable tank with optional extension hose
Utilizes a disposable 1 lb LP cylinder
Can also use a 20 lb refillable tank with an optional extension hose
Swivel valve for easy tank loading
Built-in oxygen depletion sensor for safe indoor use for emergencies
Protective grill guard
Specifications
Fuel Type: Propane (LP)Temperature Control: Manual
BT
Us:7,500-10,000Electricity Required: No
Watts: N/A
Length:10.75 in
Width:10.75 in
Height:19 in
Finish: Gray/Green/Red
Assembly Required: No
Professional Install Suggested: No
Primary Material: Plastic.Product Weight: 6.4 lbs.
Customer Reviews
My little heater
I love the heater it warm the seating are greatcarmen
Great small space heater!
Love this heater! Very efficient and warms our sitting area on our screened porch even in cold weather. Bought a second one we liked it so much!Cargi
Worth the money
Excellent heater and operation!evelyn
You may also be interested in