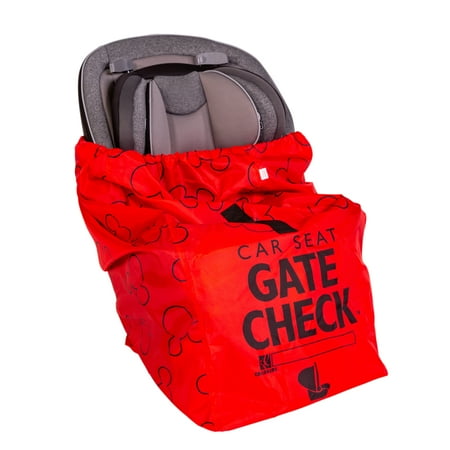 The best-selling J.L. Childress travel bags now available with a little Disney magic! Use this handy, compact travel bag when gate-checking a car seat, booster seat or infant carrier to protect it from dirt and germs. The bright red color and large GATE CHECK graphic easily identify your item for return to gate, providing peace of mind that your valuable gear won't get lost or damaged. The Disney Baby by J.L. Childress Gate Check Bag for Car Seats is made of a durable yet lightweight, water-resistant material for maximum protection. The air travel bag fits and covers most car seats easily with a draw-string closure and adjustable lock. Refer to the compatibility chart on jlchildress.com for full compatibility details. The Gate Check Bag stuffs quickly into a zippered pouch for traveling convenience. Compact to fit in travel bags. Features a webbing handle for easy lifting, reinforced seams for strength and a personal identification box. Not recommended for baggage check. Also use as a storage bag. Airline approved and recommended by baggage handlers around the world. Trust J.L. Childress, the original inventor of the stroller and car seat Gate Check Bags and the #1 leading brand in car seat and stroller travel bags! Around the world or around the block, Travel Happy with J.L. Childress! Officially licensed Disney product.
Protects your child's car seat from dirt, germs and damage when gate checked
Lockable draw-string closure, carry handle, reinforced seams
Attached zippered pouch makes unfolding and refolding quick and easy
Large ID box for your name
Durable, water-resistant fabric
Compatible with most car seats, contact J.L. Childress to confirm We're the Childress Family - Nice to meet you!For over 30 years, we've been thoughtfully designing high-quality products that are practical and multi-functional. To learn more, check out jlchildress.com. From our family to yours, Travel Happy! 
Customer Reviews

Perfect for traveling in the airport. Very convenient!Rachel
Great When Traveling With A Car Seat
This is a wonderful purchase especially if you are planning on bringing a car seat for your child in the airplane. It has straps so you can wear the carseat like a backpack. Durable and easy to store when not in use.Afshin

Served it's purpose but I thought the bag was very thin.Alisha
You may also be interested in