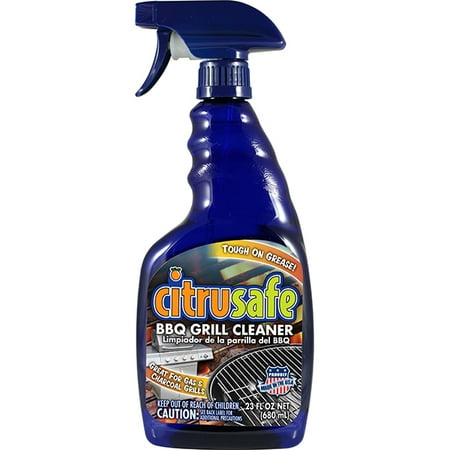 CitruSafe is a pioneer in the grilling industry by manufacturing the first spray specifically formulated to provide a simple, safe, yet powerful alternative to cleaning a barbecue grill's cooking surfaces (grates). CitruSafe BBQ Grill Cleaner utilizes the cleaning power of citrus peels to provide a natural degreaser. CitruSafe not only saves fuel, but also avoids the unnecessary risks associated with ingesting bristles from wire grill brushes. CitruSafe also works great on smokers, ovens, microwaves, etc. CitruSafe is non-flammable, non-corrosive, non-toxic, biodegradable and phosphate-free. CitruSafe is formulated and manufactured in the USA. CitruSafe grill cleaner spray utilizes the power of citrus (d-limonene) compounds to clean grills while being safe around the family food. Since 1998 Bryson Industries has developed best in class cleaners from non-toxic and biodegradable compounds. With d-limonene as the core ingredient, CitruSafe is non-flammable, non-corrosive, non-toxic, biodegradable and phosphate free. Most importantly, CitruSafe doesn't substitute strength for safety, and still will get your grill clean. Standard grilling procedure is to heat the grill before scrubbing away the grease. With CitruSafe, save fuel and time by cleaning when the grill is still cool. Not only is it a better clean, but one bottle of CitruSafe can save $20 worth of fuel from the burn off process. CitruSafe is not a skin irritant and being derived from natural products means that it is biodegradable. A multi-use spray, this works just as well on cookers, smokers, ovens, or microwaves. CitruSafe is the best way to clean your grill or barbecue grid. It gets rid of tough stains or grease fast and leaves your grill looking good as new. Removing crusted on grease will improve the taste of your food and save you money from the gas saved from burn off. Try CitruSafe today and begin cleaning naturally.
Safe® BBQ Grill Cleaner cleans your grill safely and effectively. Works great on gas grills, charcoal grills, pellet grills, cookers, smokers, ovens, microwaves, and more! Non-flammable, non-corrosive, non-toxic, biodegradable, and phosphate free. Save money on fuel by cleaning your grill cool. Utilizes citrus-based degreaser to provide safe and powerful cleaning. For use exclusively on a COOL grill. Works best with any Citru
Safe® CLEAN COOL grill cleaning tools.
Customer Reviews
AMAZING!
These products are AMAZING!!!

I followed the directions and liberally pre-treated the grill grates.
I waited the recommended one minute and then used the Citrusafe BBQ Grill Scrubber on the grates..
WOW! It was virtually effortless removing the grease and stuck-on food using the Citrusafe BBQ Grill Scrubber.

I also used the Citrusafe BBQ Grill Cleaner on the drip pan and followed the directions.
The drip pan, which had much more grease and much more stuck-on food than the grill grates, was easier to clean than the grill grates.
After cleaning was completed, I wiped down all cleaned areas with a paper towel and then rinsed all cleaned areas with a garden hose (using low water pressure or course).
I have nothing negative to say about Citrusafe BBQ Grill Cleaner or the Citrusafe BBQ Grill Scrubber.

If you use your grill quite often, I recommend purchasing multiple 23 oz. bottles OR purchase a larger refill container of Citrusafe BBQ Grill Cleaner (if a refill size exists).

I highly recommend this product.SistaF
Good eco-friendly cleaning option
The key focus of this cleaner is that it is safe to use on the grill for cooking purposes. It does a good job with light cleaning after every couple of grills. If you let your grill get very dirty before cleaning it, it will be harder to clean with this product.
I don't like the idea of using harsh chemicals on the grates of a grill, so this is the perfect cleaner for me. I use it along with the citrusafe sponges. Works well.
I would recommend letting it sit for a bit before scrubbing though. It makes it easier that way in my opinion.
If you are looking for a eco-friendly cleaner that is safe to use around food, this is a great option. For an eco-friendly product, this is about as good of a cleaner that you are going to find.lexkyguy
Fantastic grill cleaner spray!
This is a fantastic grill cleaner spray! It makes cleaning a grill so much easier. It penetrates stubborn grease for easy brush or wipe away. One important thing to note is that the instructions say to turn the nozzle to "off" before storing the bottle. This cleaner has helped get my grill grates so clean, I will never be without it. I will always have a bottle stored at home for my grill. I am very impressed with this product and I highly recommend it!JayBee
You may also be interested in