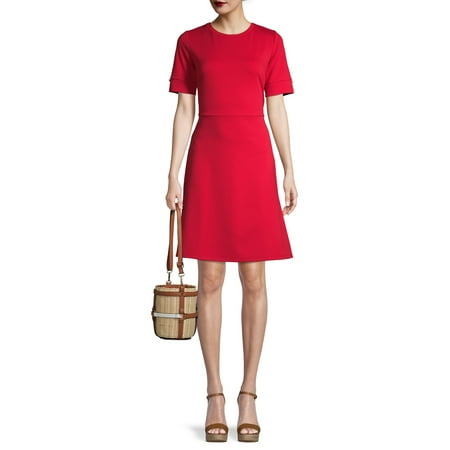 The perfect dress? We sure think so. A little bit 50s, a whole lot modern in easy-wearing ponté knit that's uber-soft with a hint of stretch for a great shape without the cling. Exclusively at Walmart.com.
Approx. 37" long from center back neck
Above-the-knee
Scoop neckline; Fit and flare silhouette
Short banded sleeves with gold-tone logo buttons; hidden back zipper closure
How 2 Wear It: Play up the retro appeal with chunky beads and block-heel sandals or go modern with slim-heel sandals and a flash of gold jewelry. 73% Polyester/24% Viscose/3% Spandex
Machine washable
Imported
C. Wonder Short Sleeve Fit & Flare Dress for Women
Exclusively at Walmart.com
Explore the colorful, chic & modern world of C. Wonder. Discover smart, sophisticated and effortless styles for work and play…see the wonder of it all.
Customer Reviews
Great quality, beautiful fit
This dress fits completely true to size, which is difficult to find these days. There are beautiful gold buttons on the sleeves, and the zipper seems very sturdy. The material is thick and heavy, so be aware of that if you plan to wear this is really warm weather. Would definitely recommend this dress!shelmonella93
Beautiful Dress
This is a beautiful dress. The color in the pictures aren't true to the dress. It's a deep red. The fabric is heavy, in a good way. The seams are well done and sturdy. It fits wonderfully. It is easy to take care of. It has buttons on the sleeves to dress it up a little. The neckline is not too low, which is nice. It made me feel classy in it.Dottie119
C Wonfer Dress is colorful
C Wonder dress is short sleeve with a gold button on each sleeve. There is also an extra button in a small plastic xiploc bag. Fit and flare dress size xl. Color is Tango Red. Has a true waist seam with a scoop mevk. Short sleeve cuff detail. The dress has a zipper closure in the back and goes to high hip. Materials: 73 percent polyester, 24 percent viscoe, 3 percent spandex ponte. The color of this dress is beautiful. I love the color and this is the positive. There are negative comments about this dress, it is very heavy for a dress and is very short in length. I would not recommend this dress. Nor would I buy this dress. It appears to be of good quality and a durable material. It really looks like this dress would fit short or petite ladies.nanagranna
You may also be interested in