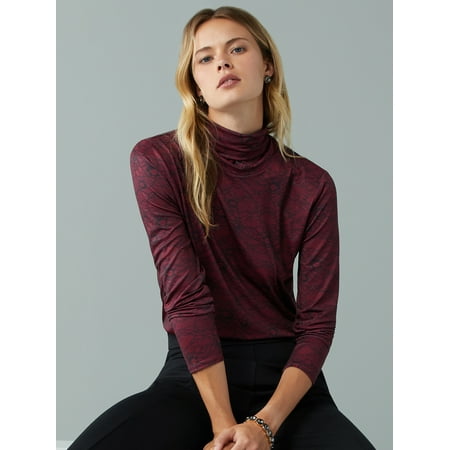 A modern print that somehow feels timeless, and a touch of stretch make C. Wonder's turtleneck a stylish and comfortable choice for any day, any occasion. Exclusively at Walmart.com.
Relaxed fit
Turtleneck; pullover styling
Mixed print
How 2 Wear It: City chic with black cropped pants and block heels. Weekend-ready untucked with a pair of skinny jeans and flats.92% Polyester/8% Spandex
Machine washable
Imported
C. Wonder Mixed Print Turtleneck for Women
Explore the colorful, chic & modern world of C. Wonder. Discover smart, sophisticated and effortless style for work and play...see the wonder of it all.
Customer Reviews
Great retro design!
I received this product from the Spark Reviewer program. The C Wonder Women's Long Sleeve Turtleneck in size large was true to size and felt very comfortable when wearing. I really like the retro design of brown belts and chains that cover the shirt in the color black which allows me to have the option of wearing this classy or casual with jeans. This feels lightweight when wearing and can be worn year around, also has a stretchy material that gives me enough room to move in and feels comfy around my neck. When wearing it feels soft on my skin and also does not wrinkle! The C Wonder long sleeve turtle neck is made with 92% polyester and 8% spandex and is machine washable in cold water at a gentle setting and can be washed with other like colours, and only non-chlorine bleach when needed, tumble dry at low temp. After washing I had no problems with shrinkage, or any stitching coming undone. Made with good quality that will last a long time!Brand
My take on this turtleneck
I am reviewing the C Wonder Women's Long Sleeve Turtleneck. I would give it five stars. Although the print is one that I am not a fan of, I felt that I could give important information about the turtleneck that would apply to the product itself and the print not being the deciding factor. I am 5'4" and pear shaped and 150 pounds. Tops can be easy to shop for but there never seems to be enough information about the person who is reviewing it. My fullest chest measurement is 36 1/2" and where the turtleneck sits at the waist is 42". I am not a fan of the print, it is just not my style. It is described as "belts and chains". But I believe that there is supposed to be an "assortment" to choose from. The fit ended up being perfect. I was unsure if this was going to be too small. I read some of the C Wonder reviews for other products and it seems like the sizing runs on the larger side. I received a size small (but typically wear a medium) and felt like the fit was very complimenting. I feel like this is a turtleneck that is more on the side of "dressing-up". It could be worn under a jacket and the print could give you that little extra something. The fabric is soft and seems breathable, but I haven't worn it "out" so far to give better feedback on that.MountainMama
Very nice
I received this shirt today and tried it right in. It's a perfect fit as expected. I won't be wearing it until winter but I do look forward to it. It made of high quality material and will last for a very long time. I love the way it falls on the body but doesn't cling to show any belly lumps and bumps. The color is lovely actually better than pictured! It came in a plastic bag in a box that was well protected.Sandys3
You may also be interested in