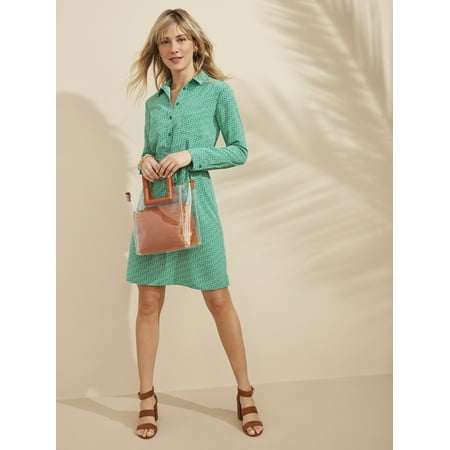 It's a cinch to update your style with C. Wonder's print shirtdress—one that moves through your day effortlessly. Exclusively at Walmart.com.
Approx. 37" long from center back neck
Midi length
Point collar; shirt dress
Allover prestige print; patch pockets on chest; self-tie belt creates a flattering fit
Unlined
How 2 Wear It: Straight-up classic shirt dress style—slight heels, matching tote, the works. Or play peek-a-boo—unbuttoned and layered with a cami or tee.100% Polyester
Machine washable
Imported
C. Wonder Print Shirtdress for Women
Explore the colorful, chic & modern world of C. Wonder. Discover smart, sophisticated and effortless styles for work and play…see the wonder of it all.
Customer Reviews
Exceeded my expectation
Super cute preppy style with classic chain design. Color is a true Kelly Green. This would be a great dress for brunch or for travel since it is 100% polyester and I would imagine would resist wrinkling. The belt tie is long enough to tie in a knot or a bow. High quality single needle stitching throughout. I'm 5 ft 3 in tall and the dress hit me just above the knee. I wear a size 14 dress and this dress fit me with a little room to spare making it very comfortable. This would be the perfect dress for spring light enough but with long sleeves in case of a slight chill in the air. I will definitely be wearing a slip with this dress because in the sunlight it is very sheer on the bottom.gimmieadeal
Cute and Comfy Dress
This C WonderHalf Button Down Dress with Self Tie is so cute and comfortable. The Relaxed fit feels great on your body. The dress is semi fitted however because of the belt I think anybody type would be able to wear this style of dress. I don't particularly like low-cut tops and dresses so this dress collar on it is a great added feature to the Half button down dress. It has a modest and comfortable fit and has long sleeves.. The dress has an exposed functional half button up closure, with a collared neckline. The dress also comes with a self tie belt with crocheted loops to make it fit more comfortably for whomever is wearing it. The long sleeves of the dress have a button closure on the cuff for sleeve details, and has front patch pockets on the chest. The C Wonder Half button down dress with self tie belt comes in a the beautiful color choice of cobalt chain print and kissing logo ultra marine green. The dress is made of 100% polyester, soft crêpe, which makes it a great one to travel with because the wrinkles fall right out of it. My address is the design of kissing logo ultra marine green and will be a perfect wear on St. Patrick's Day I can't wait to show off my new dress at work and at play this dress will be the perfect comfortable wear. I will be able to dress up or dress down.Savvy
Lovely dress
The dress is lovely
The material is fresh and lightweight
All the sims are well done
The print is really good
The size run good. I am XL
You can use for work, informal occasions
Recommended for this spring season and for summer time toshenav
You may also be interested in