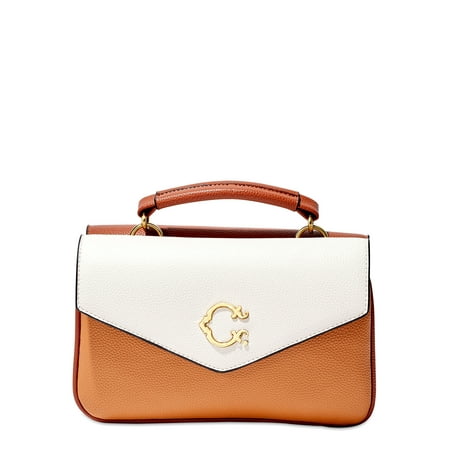 Crossbody or shoulder bag? You're in control of your style with C. Wonder's Abigail faux leather handbag. Dual exterior flaps ensure you'll be looking good coming and going. Convertible shoulder strap keeps you hands-free when you need it most. Sold exclusively at Walmart.com.
Pebbled texture; 1 colorblocked side and 1 solid side; gold-tone signature C logo
Interior details feature print lining; 2 zipper compartments, 1 with zipper pocket and 1 with slip pocket
Synthetic materials
Wipe clean
Imported
C. Wonder Abigail Vegan Leather Crossbody Bag for Women
Explore the colorful, chic & modern world of C. Wonder. Discover smart, sophisticated and effortless styles for work and play…see the wonder of it all.
Customer Reviews
Cute and stylish
I have used this bag in so many ways and i love everything about it. First it is
Double side yes double side, check the pictures to understand one side is bicolor grey and white
With a zip pocket inside the other side is uni color black with a simple pocket
The material is nice and the bag is pretty well made . I also love the removableshoulder strap which make this
Crossbody so convertible.Lolo
Abigail shoulder strap length or hand carry purse
I really didnt know what to expect when I received this cute little purse. It's small and cute, one side is black, and the other side is a gray, not an exact gray, and the black side kind of leans more to a midnight blue. There is a small "c" on one side, and a large "C" on the other side. One side has a zipper under the flap, and a smaller zipper compartment on the inside of that. On the other side of the purse under the flap you have a zipper compartment and inside there, you have just a lined pocket. I wasnt really too crazy about the lining on the inside of the purse, now the zippers look really good, not sure how well the lining will hold up. This is not a very roomy purse, so you can not get a lot in it. But material wise I really like it on the outside. I havent had a chance to use it much, but what I have I do like it, just cant put much in it. It has a nice sturdy strap to carry by hand, or you can attach the shoulder strap on and carry it on your shoulder or crossbody like a lot of people are doing now. The strap has a buckle on it like a belt to lengthen or shorten it. Its cute and I love it, I'm sure I will get good use out of it.Krista713
Crossbody Bag
I love the colors of this bag. On one side of the bag it is gray and mushroom color and the other side is all black. I love the snap closure on the bag. I have never had a bag like this one before. It looks like a saddle bag since each bag has its own flap closure and colors. I love that one side has a zipper enclosure and is totally lined and has a small zipper part to hold loose change in the back of it. The other bag also has a zipper enclosure which is has a totally lined interior and has an opening to place credit cards or even a phone in the back of it. I love the idea that you can carry it like a regular pocket book or use (and/or remove) the shoulder straps. It is a beautiful bag and I now am using it all the time because it holds everything that I need and like I said I love the colors.BobbieG
You may also be interested in