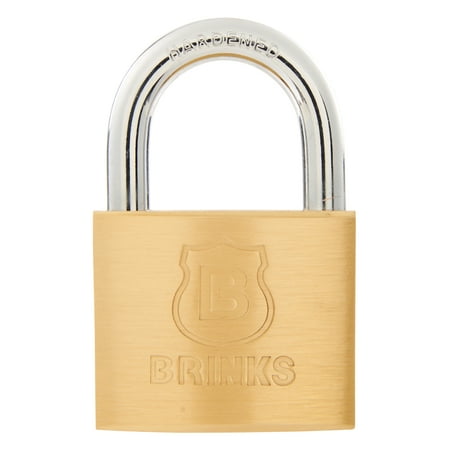 Brink's Brass Padlock features a 40mm solid brass body and a chrome plated, hardened steel shackle for increased cut resistance. It is equipped with a five-pin brass tumbler cylinder and double brass bolt locking mechanism for pick resistance. With corrosion-resisting properties, brass is perfect for use indoors and outdoors. The padlock is Ideal for all types of usages such as locking and securing lockers, storage, garages, and toolboxes.
Solid brass lock body, hardened steel shackle7/8" (22mm) shackle clearance2,400 lbs. cut resistant1,400 lbs. pry-resistant
Weather and corrosion-resistant
For heavy-duty applications
Includes two (2) keys
Uses VR7 key blank
Lifetime warranty for defects in material and workmanship
Customer Reviews
Locks To Trust
I trust Brink's Padlocks. They are well made and stronge. I use different size Brink's locks around my house.Sunshine
Good value, but only one key per lock
Good locks for lock picking practice. I was surprised each of the locks came with only one key, and both keys/locks are identical. If I want to use the locks in different places, I need to remember that I only have one key available at a time.

Quality product, highly recommend!Teresa
You may also be interested in