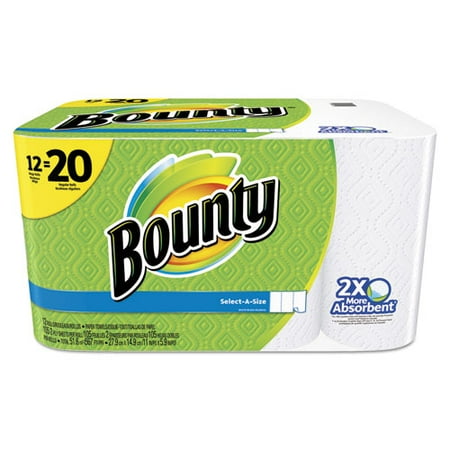 These Bounty Select-A-Size Paper Towels are twice as absorbent so you can use less. They allow you to quickly and easily tear off a half sheet of paper towel to deal with smaller messes. This makes for less waste and makes your roll of white paper towels last even longer. Messes don't quit, so neither should your paper towel. Bounty features unique Trap and Lock Technology that quickly absorbs messes, so you can clean up and move on without wasting time or towels. Choose the Bounty the No-Quit Picker-Upper. The Mega bounty roll contains 1.67 times as many paper towels as the standard roll. It fits on most paper towel holders. The 12 mega paper towels rolls provide plenty, so you won't have to be constantly running to the store. You will have enough paper towels for even the largest family. They are also good for use in the basement or workshop or garden shed. These Bounty Select-A-Size Paper Towels are good for families, offices, schools or other groups.
Bounty Paper Towels, Select-A-Size, 12 Mega Rolls

Pack contains 12 Super Rolls of Bounty paper towels

Each Super Roll contains 83% more sheets than a Regular Roll

2X More Absorbent so the roll can last longer

Choosing your sheet size with Bounty Select-A-Size lets you use less

So thick and absorbent you can see it!

Also available in fun and exciting print designs!

If you love Bounty Paper Towels, try Bounty Quilted Napkins!

Customer Reviews
Excellent Value
We buy these paper towels for the Masonic Center of Winston-Salem. The members in the kitchen prefer the absorbency and the treasurer loves the price from Sam's.JoeyT
The best
Only paper towels I use ,probably been using them 15 years or longer.Queenie
Bounty Select-a-size paper towels
I've used these towels for over 30 years. Can't say they're better or worse than most, it's just the ones I always buy because they work well for what I use them for. I do prefer the select-a-size, I used to tear the towel across halfway and then down so I'd have half a towel, now I don't have to do that.NikkibelleV
Best paper towels ever
These are the best, most absorbent paper towels ever. The select-a-size is also a huge money saver, as half a sheet does the same job as a whole sheet, making a roll last a lot longer. I've been buying these for years and will continue buying them.eAdina1947
I continue to buy this product.
Great in the kitchen. No wasted paper towels when you can use the exact size needed for a particular job. Only "problem" - and I don't consider it as such - is that I have to use a bit of the roll before it fits into my old, old holder. I will buy a new holder before I change the size of the towels!!!Marjorie F
Easy to store
Each comes with there own package wrap. Easy to store and put it throughout the houseMami23girls
Great.
I've tried ALL the "new", "cheaper" towels out there and I always come back to Bounty. I love the individual wrapping on the rolls so I don't worry about them getting ruined before I can use them.Sammi56k
Great feature to have!
While select a size has been around for decades, it's still great to have. It helps cut down on waste helping us to be 'greener'. Let's all do our part, if we're going to use paper towels, use select a size!Midknightsong
I love the Select-A-Size feature most.
Being able to grab a portion of paper towel that is appropriate to the task make me feel more efficient and less wasteful. I am not used to using paper towels, and as I have gotten into baking, I've Come to rely on them to avoid cross-contamination.

I Think these are at a good price point and the quantity last for weeks. Each roll has it's own plastic wrap.IMNRG
Bounty playing the switcheroo!
Fewer sheets per roll in the new lot I bought. Last time 109 sheets, this time 96. Did you think we wouldn't notice?Csmac
You may also be interested in