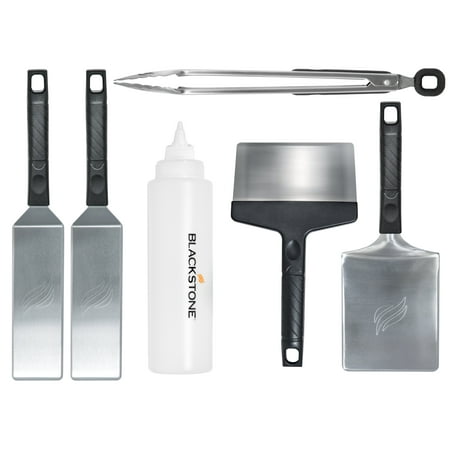 The 6 Piece Deluxe Spatula Griddle Kit is the perfect add-on to your Blackstone cooking experience. 14-inch Stainless Steel Tongs are an ideal tool to lift delicate foods, as well as large cuts of meat while cooking on your Blackstone Griddle. Use the 32 oz. Sauce/Liquid Bottle to hold water or oil so you can add moisture and flavor on demand. Using these same liquids, you can cool down a hot griddle, steam veggies, and even remove cooked food. Flip juicy burgers on the griddle with this Deluxe Hamburger Spatula made of stainless steel material and a plastic handle. The Spatula Scraper is a tool that makes it easy for you to clean or remove grease off of your griddle. A professional-grade Spatula makes it great for flipping burgers, pancakes, veggies, and all other grill or griddle applications. Bonus! The "Griddle Essentials Cookbook" is also included in this kit.
Two 32 ounce squeeze bottle with twist-top nozzle
Each tool is durable and constructed of plastic handles and heavy gauge brushed stainless steel.
Customer Reviews
Great for BBQ season!
My family and I love to BBQ and having this Blackstone Deluxe Stainless Steel 6-Piece Spatula Griddle Kit helps us get the job done. This kit has well made products such as tongs, spatulas, liquid bottle and scraper. I love flipping burgers with the hamburger spatula which is big enough to flip larger size patties. The tongs work well to grab hot dogs and turn them so they don't burn. It's an ideal kit for any cook and would made a great Father's Day gift!sspencervip
Love!
Love my Blackstone griddle and now with my griddle set I am ready for summer. Blackstone makes awesome products and they did it again with this set. Solid, sturdy spatulas and scrapers. Not slums! Handles made of nice wood, fits nicely in hand. Great product!veroshopper
Sturdy and durable
I like the Blackstone Deluxe Stainless Steel 6-Piece Spatula Griddle Kit. The set is very nice. The stainless steel set seems to be very durable. I like that the kit came with a container/bottle for sauce. The kit will come back in handy for indoor and outdoor cooking.SweetT0878
You may also be interested in