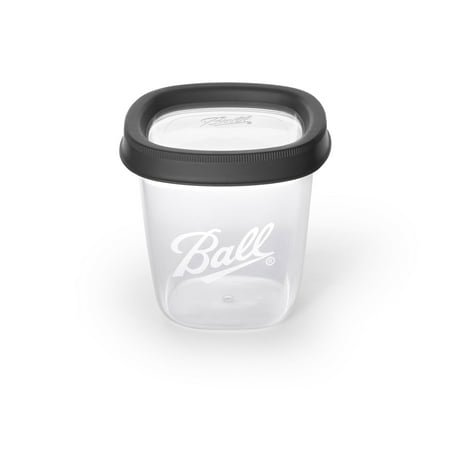 Ball® Freezer Jars conveniently stack for efficient storage and improved organization during and after use. The push-down lid creates an airtight seal to ensure your food stays fresh, and features a convenient window for easy visibility. Fill lines on the side of the jar help prevent messy spillovers due to food expansion during freezing. These dishwasher-safe jars are designed for easy scooping and cleaning and are BPA-free, so you and your loved ones can use them with peace of mind.
AIRTIGHT LID: The airtight lid keeps oxygen out, to ensure that your food stays fresh until you're ready to use it
BPA-FREE: Freezer Jars are BPA-free, so you and your loved ones can use them with peace of mind
PERFECT FOR STORING: Jars are designed to nest when not in use, for easy, space-efficient storage
WINDOWED LIDS: Windowed lids allow you to easily see food contents within the jar without opening it
STACKABLE DESIGN: The innovative square shape of the jar allows for efficient freezer stacking, storage, and organization
Not safe for canning
Customer Reviews
So far so good
So far so good. Wish there were some larger sizes, maybe quarts or 6-8 cups. Like to use for freezing soups, stews, broth, beans, etc. Got tired of my glass canning jars breaking in the freezer. Hopefully these will hold up better in the deep freezer.Ketzel
Nice Freezer Containers
I bought these because I never go through a whole jug of milk. I use these to freeze small quantities of milk and pull them out as needed. They are perfect for this purposes, and I'm not wasting a half gallon of milk anymore. They wash up great in the dishwasher too.Cocco
Perfect for soup and spaghetti sauce.
I LOVE THESE FREEZER JARS! They are the perfect size for soup or spaghetti sauce. They stack nicely in the freezer and are easy to grab before heading to work. They are safe for the microwave and dishwasher, but I don't put plastic in either. I wash by hand.
You may also be interested in