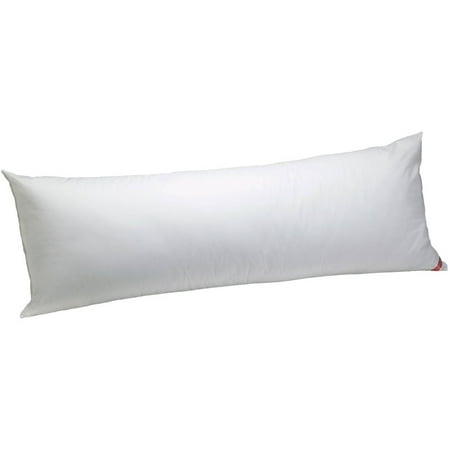 The AllerEase Allergy Protection Cotton Body Pillow is the ideal accessory for allergy sufferers to cuddle up to at night. It features breathable cotton for comfort on the outside and a hypoallergenic fiber fill on the inside. The 20-inch by 54-inch body pillow prevents household allergens such as dust and pollen from accumulating within the filling. It can also provide plenty of support and comfort night after night. The added benefit of the AllerEase body pillow is that it is ideal for individuals who require additional support while they sleep.
Ease Cotton Allergy Protection Body Pillow, 20" x 54":Allergy-proof fabric prevents dust mites, pollen and other household allergens from collecting in the pillow
Breathable 100 percent cotton
Hypoallergenic polyester fiber-fill
Machine wash and dry for easy care
Pillow size: 20" x 54"
Customer Reviews
Big soft pillow
[This review was collected as part of a promotion.] Omg this pillow was so soft that I sleep like a baby all night it was the right size and the feeling of it was out of the world and it fit my bed great every body in my house wanted to feel it and they said it was so soft they want oneMcmoran
Super soft
[This review was collected as part of a promotion.] I was able to try AllerEase 100% Cotton Body pillow and I'm highly satisfied! This is my first time experience with the brand and I'm sleeping on a cloud. The body pillow offers full body support and stays cool during the night. I love the features the material has as it keeps away allergens & pollen. I have notice my quality of sleep has improved since introducing this pillow to my bed and couldn't be happier. This pillow is also great to lounge around the house too because it's sturdy and plushValGal03
Awesome pillow!
[This review was collected as part of a promotion.] I can only say good things about the AllerEase - 100% Cotton Body Pillow. It comforts me knowing I don't have to worry about allergens being trapped in this pillow. It is beyond soft but firm enough not to go flat. It gives just the right amount of comfort how ever you decide to use it.Nikkikw
You may also be interested in