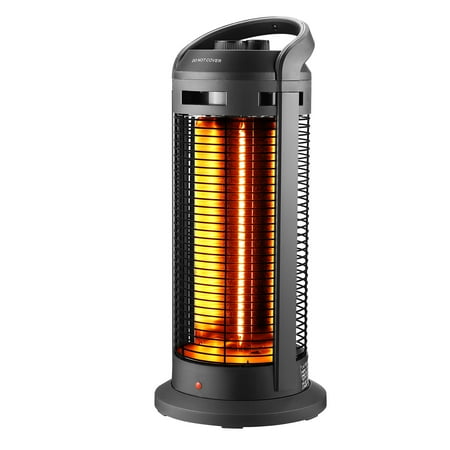 Features:Adjustable constant temperature, powerful instant heating Tip-over and Overheating protection, safe and reliableLightweight, oscillation and easy to carryQuiet work will not disturb your read, rest and workUL and ETL CertificationSpecifications:Material: PPColor:BlackVoltage: 120V Power:250W / 1500W 60HZControl method: Rotary switch Carbon tube heatingUL CertificationETL CertificationRetardant rating: UL94 V0Product size: 10'' x 10'' x 22.44''Product size:10.43'' x 10.31'' x 23.78''Gross/Net Weight:6.64 lbs/4.69 lbsPackage Including:1 × Space Heater1 × Owner's Manual
This electric space heater with Carbon tube Heating(1500W ultra-fast heating, strong energy saving, no pollution, long service life), quickly make you warm embrace. Two temperature settings, 250-1500W adjustable, feel the warmest and most suitable temperature for you! No fan heating will not have noise to disturb your read, work or chat.4 Heat Settings Electric space heater has an oscillating function like a fan, and you and your family will feel the warmth it brings in many ways.Simply dial the switch to find the most comfortable heat setting according to your needs: "I" 250W Heating setting , "II"1500W Heating setting , "I" 250W Heating setting with oscillation and "II"1500W Heating setting with oscillation.Portable
The space heater is very lightweight, design with a convenient carry handle allows you to easily carry to any place, bedroom, study, bathroom, office, etc.Tip-Over Protection
This tower space heater is equipped with a shut-off safety feature. Once the heater is tipped over, an internal switch will automatically shut the heater off. Once the heater is restored to an upright position, the heater will reset. So don't worry about kids or pets knocking over the heater
Overheating Protect
This space heater with overheat protection will automatically shut off when the sensor detects that the temperature is too high. You can sleep tight without worrying about the heater that might heat up dangerously.UL and ETL Certification
The Space Heater is with ETL Certification and the Power corde is with UL Certification that enables you to use Space Heater more securely and trustingly.
Customer Reviews
Quality
it worked great! The remote makes using it convenient, as I can adjust the heater from across the room with ease. We will be grateful for that come wintertime! The timer feature allows for the heater to run for twelve hours, then it automaticallthe heater will shut 。it has nice safety features that I appreciate too.yueer

The heater has very good quality. After showering or before sleep, the heater keeps me warm without heating the entire room. It is very energy efficient.SSW
Heater works great!!
I really liked that this heater can maintain a 12x12 room pretty warm and toasty. Due to pandemic, my office is now in my house and this space heater is great to keep it warm so that I don't have to turn my central HVAC system. that looks classy and operates effectively.
You may also be interested in